Compulsive Disorders in Pets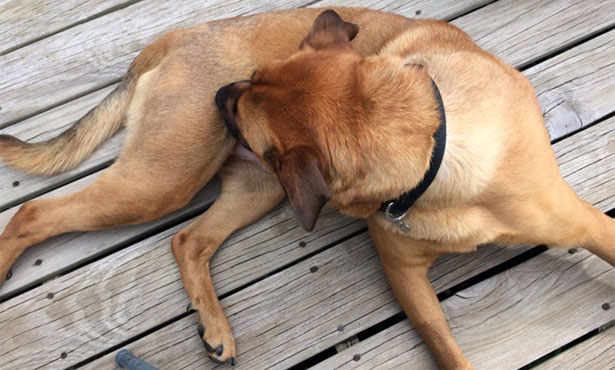 Compulsive disorders impact pet's, owners' quality of life
Obsessive-compulsive disorder is a well-known diagnosis in human medicine, but did you know that animals can also develop a form of this disorder?
This doesn't mean there are dogs out there that count their steps or triple-check the light switches. In fact, the first thing to understand, according to veterinary behaviorist Dr. Kelly Ballantyne, is that dogs are not considered to have obsessive-compulsive disorders, but rather compulsive disorders in general.
Repetitive Behaviors, Not Thoughts
Dr. Ballantyne, who practices at Veterinary Behavior at Illinois, a Chicago-based service of the University of Illinois College of Veterinary Medicine, says the reasoning behind this distinction is that the word "obsession" means there are intrusive and repetitive thoughts, which can't be confirmed in dogs. Beyond this, the compulsive aspect of the disorder is very similar in dogs and humans; in both species the behavior interferes with normal activity or routine.
"Certain breeds are predisposed to some repetitive behaviors," says Dr. Ballantyne. "Spinning and tail chasing can be seen in German shepherds and bull terriers, while border collies are known for shadow or light chasing. Dobermans are known for flank sucking, which is when they grab their flank or upper thigh with their mouth."
Although these behaviors are seen more commonly in specific breeds, any breed may exhibit them.
Compulsive disorders may have either a medical or behavioral basis. For example, Dr. Ballantyne says that many dogs that excessively lick themselves may have an underlying dermatologic or orthopedic issue. Dogs that spin in circles or constantly lick the base of their tail might have anal sacculitis (inflammation of the anal glands).
Neuropathic or digestive pain can also cause these behaviors. For example, fly snapping is when the dog looks in the air and makes a grabbing motion with their mouth as if catching an imaginary fly. This can be a compulsive disorder, but it can also be a seizure symptom or a sign of gastrointestinal pain. As a result, it is important to discuss your dog's behavior with your primary veterinarian in order to rule out any underlying medical issues.
Stress Often Triggers Compulsive Disorders
Compulsive disorders with a behavioral basis are often triggered by stressors.
"If a dog wants to greet a stranger but is also scared of approaching the person, the dog experiences conflict and may start spinning in circles because of these competing motivations," Dr. Ballantyne explains.
For dogs that are highly anxious, even circumstances involving only minor stress may trigger compulsive behaviors. Besides a stressful experience, inconsistent interactions with other dogs and humans or lack of enrichment may contribute to compulsive behaviors in dogs.
Whether the compulsive disorder arises from a medical or behavior basis, Dr. Ballantyne says that one pet's disorder is unlikely to bring about compulsive disorders in other household pets. However, it is important not to breed dogs that exhibit these behaviors because there is a big genetic component to this abnormality.
Compulsive disorders often have a huge impact on the dog's quality of life as well as the owner's quality of life, such as when the dog is unable to sleep properly through the night. Some dogs will play less and even eat less because they are constantly engaged in these behaviors. Tail chasing could become dangerous if it happens on a walk while crossing a street or walking down steps. More directly, tail chasers can injure their tails, and excessive lickers can cause painful sore spots on their skin.
Treatment Approaches for Compulsive Disorders
Recognizing your pet's compulsive behavior and seeking treatment as soon as possible is crucial.
"Compulsive disorders usually start off as acute conflict disorders that are shown only in stressful situations. Without treatment they may be displayed in more and more situations and interfere with normal activities," says Dr. Ballantyne.
Treatment approaches include medication, management, and behavioral modifications. Medication prescribed for compulsive disorders in dogs will be a type of antidepressant, either a selective serotonin reuptake inhibitor (SSRI), such as fluoxetine, or a tricyclic antidepressant, such as clomipramine.
Owners must also play an active role in managing the dog's condition. They can anticipate and reduce the triggers that cause the behavior. Recognizing the behavior and redirecting the dog's attention to a different action, such as sitting or lying down, is another way to manage the behavior.
Punishment Adds to Anxiety
Dr. Ballantyne recommends environmental enrichment because when the dog is involved in another stimulating activity, he or she will be less likely to engage in the compulsive behavior. The owners should never punish pets for exhibiting these compulsive behaviors because punishment will only increase anxiety.
Can cats get compulsive disorders too? Indeed, they can. Typical behaviors include chewing on fabrics, excessively grooming themselves, eating inappropriate objects, and attacking their own flanks or tails.
As with dogs, cats exhibiting these behaviors may have underlying medical conditions, so it is important to consult your veterinarian regarding any of these issues.
By Danielle Engel