Avoid Holiday Hazards for Pets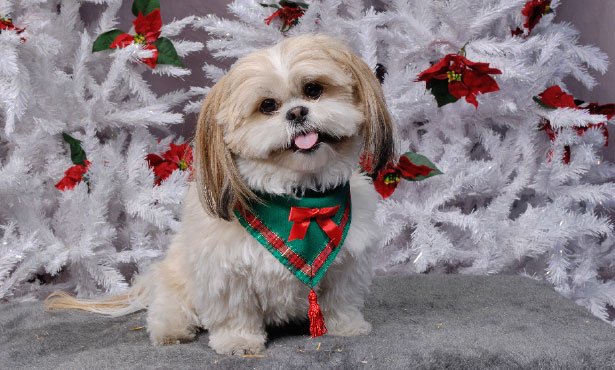 The holidays are a potentially dangerous time of the year for pets.
Dr. Tina Wismer, an adjunct instructor at the University of Illinois College of Veterinary Medicine in Urbana, is also a veterinarian at the ASPCA Animal Poison Control Center. She says the call volume there increases by about 10 percent during the holidays.
The No. 1 call the Animal Poison Control Center gets this time of year is for potential chocolate toxicities.
"Chocolate, especially chocolate with a high cocoa content, contains theobromine, which can be toxic to heart and can induce seizures or pancreatitis at high doses," explains Dr. Wismer. "Between the baked goods on the counter and wrapped gifts, there is plenty of chocolate to be found this time of year, so be sure to keep the chocolate out of a curious pet's reach."
Grapes and raisins can also be harmful to pets. As little as a snack-sized box of raisins eaten by a 33-pound dog can cause acute renal failure. All dog breeds have been shown to be susceptible to this toxicity. Current thoughts are that this toxicity may be caused by a mycotoxin (fungus) in the grapes or raisins, or may be due to a genetic pre-disposition in the dogs.
Onions and garlic can cause damage to an animal's red blood cells to the point where hemolysis (the premature destruction of red blood cells) occurs. A blood transfusion is part of the necessary treatment, so make sure to keep these ingredients away from pets.
Drinks also pose a threat to animals. According to Dr. Wismer, it only takes a small amount of alcohol to make a pet sick. If an animal has ingested any alcohol, be sure to take the pet to the veterinarian for appropriate medical management.
Certain plants are also potentially hazardous to pets.
"The most dangerous plants this time of year are the beautiful lilies found in holiday bouquets. These can cause kidney failure in cats," says Dr. Wismer. "Poinsettias are over-rated when it comes to toxicity: they cause only stomach upset."
Decorations make the holidays cheerful, but pet owners should be mindful of what they put on the tree or around the house. Dr. Wismer explains that ingestion of salt dough ornaments can cause sodium poisoning, and tinsel can cause intestinal obstructions in dogs and cats.
Dr. Wismer advises pet owners to make their home as pet-safe as possible during the holidays. Food items should be kept away from pets, and food-based gifts should not be wrapped and placed under the tree. Baby gates and closed doors are a simple solution to keep pets out of trouble.
"If you suspect that your pet has gotten into something hazardous, it is important to contact your veterinarian as soon as possible," says Dr. Wismer.
For more information about holiday hazards for pets, speak with your veterinarian.
By Sarah Netherton