Ortho, Onco, Micro, and More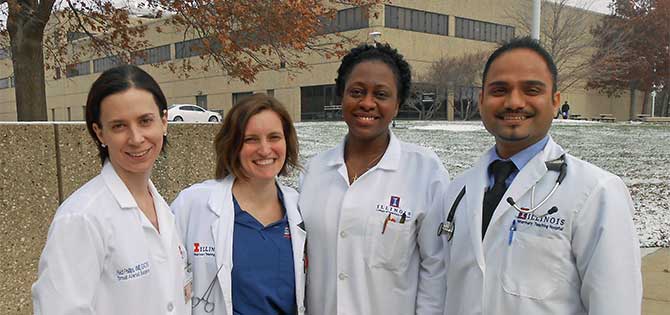 This message appeared in the November-December 2014 issue of the Chicago Veterinary Medical Association Bulletin.
Meet Urbana's Small Animal Surgery Team
Obstructive ureterolithiasis in a cat? Microsurgery on the feline urinary tract is no problem at Illinois.
Fast-growing tumor of the skull or mandible? We'll cut anything, and we have the success stories to prove it.
Congenital limb deformities? Our surgeons rely on our state-of-the-art imaging service to precisely plan corrective procedures, with the capability to print 3D models of the patient's bones to aid in the process.
Over the past two years, the small animal surgery service at the Veterinary Teaching Hospital in Urbana has gained four new faculty members who have forged a very comprehensive service and teaching team.
While Chicago-based practitioners have many options for referral surgeries, including the college's Harrison Street clinic, VSC at Illinois, where Drs. Mitch Robbins and Paula West see patients three days a week, you may not have had a chance to meet the faculty in Urbana.
Dr. Tisha Harper, an orthopedic surgeon who heads the service, joined the faculty in July 2012. She also oversees the hospital's rehabilitation program, which recently installed new land and underwater treadmills to assist post-surgical recovery and provide other therapies.
The team also includes Dr. Heidi Phillips, who performs general and specialized soft tissue surgery, as well as advanced urinary tract surgery and other microsurgery; Dr. Laura Selmic, who was among the first surgeons to be designated a fellow of surgical oncology by the American College of Veterinary Surgeons; and Dr. Karanvir Aulakh, who has a special interest in cranial cruciate ligament deficient-stifle and stifle kinematics. Both Dr. Harper and Dr. Aulakh have been certified to perform the BioMedtrix total hip replacement surgery.
Add our recently boarded neurologist, Dr. Devon Hague, who performs the more complex neurologic surgeries, and outstanding support from the hospital's anesthesiology, imaging, and critical care services, and we are prepared to treat a wide range of surgical conditions in dogs and cats.
"We hold referrers in high regard," says Dr. Harper. "Because we are all fairly new to Illinois, we've been reaching out to introduce ourselves with visits to clinics and providing in-clinic review sessions or mini workshops as well as speaking at state and regional meetings."
Dr. Phillips has begun offering week-long intensive training sessions for veterinarians interested in developing skills in microsurgery—at a fraction of the cost of most such training programs.
Dr. Harper says of her team, "We're sticklers when communicating with referrers." We strive to call referrers when the patient is first admitted and again with a discharge plan. Referrers are contacted with diagnostic and treatment plans during their patient's stay.
Pet owners generally get two calls a day—from the student on the case and from a house officer or faculty member.
The faculty member on duty typically answers calls from referrers, and Dr. Harper says consultations by email are a good communication option for times when an immediate response is not needed.
The surgery team has also introduced opportunities for students to become familiar with more advanced surgical techniques. In the Illinois curriculum's "professional development" period—the final six weeks of the degree program—as well as elective courses, students can choose a hands-on laparoscopic spay workshop or a wet lab on orthopedics for the general practitioner, in which they perform a femoral head and neck ostectomy and learn femoral fracture repair, as well as the common lateral fabellar-tibial suture for stifle stabilization following cranial cruciate ligament rupture.
(Illinois students can also hone their surgical skills by performing 50 to 100 sterilizations on dogs and cats through the college's growing shelter medicine program, run by Dr. Bob Weedon.)
I hope you'll have an opportunity to work with these new members of the college faculty. Please contact me at dean@vetmed.illinois.edu if you have any questions.
—Dean Peter Constable