Olsen Embraces Entrepreneurial Spirit in Her Chicago Practice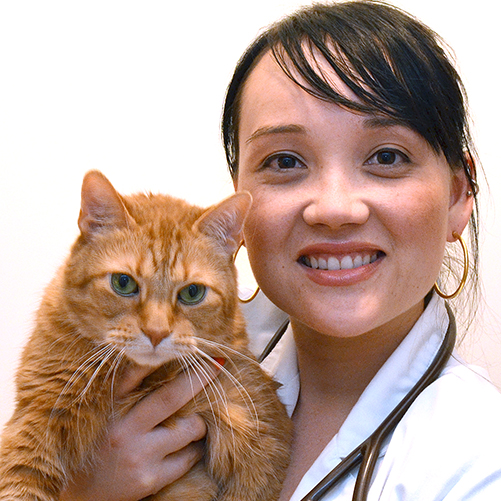 Alumni Profile Submitted by Dr. Lynne White-Shim (DVM '06)
Dr. Cynthia Olsen (DVM '06), a Japanese-American Chicagoan who is an avid equestrian who was originally educated in sound engineering,  isn't one who is concerned about fitting into a certain mold.
So it wasn't surprising that, despite recent research showing hesitation by young veterinarians to become practice owners, Dr. Olsen decided to blaze her own path by building a business from the ground up.
Dr. Olsen opened Ravenswood Animal Hospital LLC, a small animal practice, in September of 2014. In addition to practicing small animal internal medicine and surgery, she offers acupuncture and chiropractic services for small animals and horses, and has found these services fulfill a need that has been highly in demand in the area. She was certified in animal chiropractic in 2009, and more recently attained veterinary acupuncture certification in 2013.
"My roots are here in Chicago, and I'm thrilled to be able to serve this community which really seemed to be looking for a variety of services for companion animals," said Dr. Olsen.
She is also the Illinois director for the Paw Project, a group that is working to end declawing.
It's been said that home is where the heart is. Based on the passion surrounding Dr. Cynthia Olsen's care for her patients, it's clear that she's right at home with her burgeoning practice in Chicago. As an avid Cubs fan, she says about one of her canine patients Ferris, with a smile, "Even though Ferris is a Sox fan, I still love him."
If you have news to share or would like for us to feature an alum on the College's website, please submit a story via our online form.