Normandy, France, CIRALE, August 2015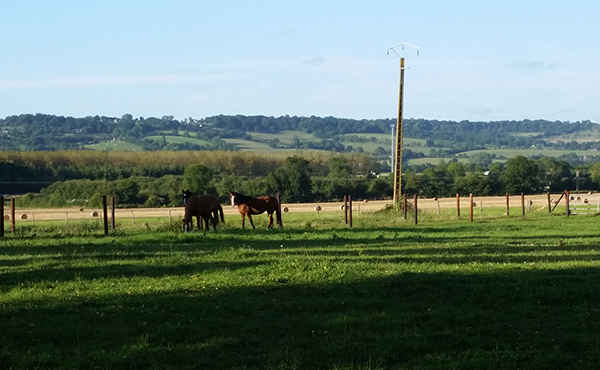 This summer I had the honor to spend one month at one of Europe's most renowned equine lameness clinics, located in Normandy France. It was a complete immersion into the French culture, language and their point of view on veterinary medicine. During my time at the clinic I was able to work with 4 different clinicians. The main focus was on equine lameness exams, radiographs, ultrasound, bone scans and MRIs.  At first the challenge was making sure to keep up with what they were explaining since it was all in French. However in a matter of a few days it became easier and easier.
On a practical aspect, it was very interesting to see how some of the same diseases we see here are treated differently in France. Overall I feel there is a more conservative approach to their therapy compared to what I have been exposed to in the United State. There were also a variety of drugs, which they use on a daily basis, that I was not familiar with. On the other had it was exciting to see that there are universal ways of doing things, were it is preformed exactly the same no matter where in the world you are.
One main variance I noticed was how people look at horse ownership in France. The majority of the clients that came to the clinic had high performance horses, and only a few of them were considered as a pet. Due to this I feel like owners were more willing to spend higher amounts of money on their horse since they were competition horses treated as athletes. It is hard to say that all of France is like this since I was only in this one clinic, but from talking to the interns and other workers I feel like it is similar in many parts of the country.
While at the center I was housed with other externs who were also from various parts of the world. One of the externs was from Belgium, and my roommate was from Tunisia. During dinnertime we would share different stories from back home and compare them to better learn about each other's culture. We also cooked a lot for each other so we would all taste the delicacies from various countries. Throughout the day I also interacted with the French veterinary school interns that were spending time at the CIRALE. I will never forget the people that I met there and have stayed in contact with them since coming home.
During the weekend we had time off so we went to typical small French villages and towns. This included visiting national monuments, shopping, spending some time at the beach, and relaxing at the local cafés. Since none of the externs had a car with them we became familiar with the public transportation system. I feel like it was very easy to navigate, and a great way to get around for cheap.
Overall my trip to France was a life changing experience. It opened my eyes to different veterinary techniques and practical approaches for equine lameness. I met many international veterinarians and future colleagues. In addition it allowed me to become more proficient in medical/veterinary French.
—Coralie Morauw, Class of 2016