Nine Students Study in Nicaragua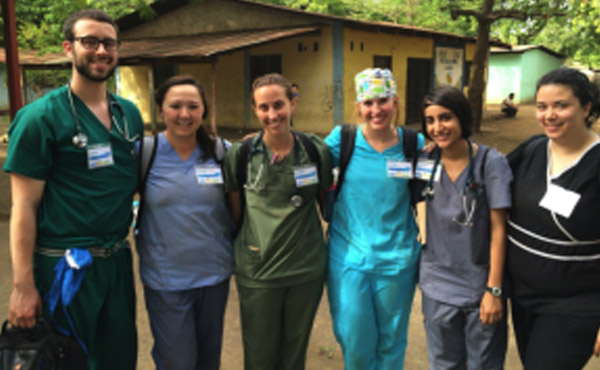 Nine veterinary students describe a day in the life of a study abroad student. These students traveled to Nicaragua for their study abroad program
Fatima Kazmi, Leon, Nicaragua, May 2014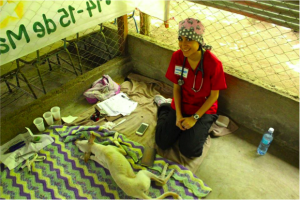 Our first clinic day of the trip! There was a mix of emotions going through my mind while we drove to the clinic. I was excited to finally get the chance to take part in a surgery, but I was also very nervous since none of us knew what to really expect. The day before we had had orientation in which we were assigned our set-up team and also were given the chance to practice our suture technique. This gave us some idea of what to expect, but there were still many things that we did not know. I was worried that we would not work efficiently and would not be able to see enough patients.
Once we arrived at the clinic we split up into either in-take, surgery or recovery for set up. A group of vet students and I were assigned to surgery set up. At first we started out a little slow, but once people took charge of different roles and we got the hang of how things were supposed to work it went much smoother. Overall, setting up the clinic took the longest this day, but we became much more efficient as time went on. From here every veterinary student was paired up with a pre-veterinary student, which was an amazing learning opportunity. It allowed me to use the experience I have learned through veterinary school and teach it to someone. This allowed me to really think about what I was doing and why. I feel the best way to learn and test your skills is to teach it to someone else.
Our first patient of the day was a surgery, in which Meagan my partner monitored anesthesia, while I assisted in the surgery. During surgery I was able to practice my miller's knot, which I had learned the day before and also got to use suturing skills that I had learned from school. The next patient we had was a consult where Meagan and I performed a physical exam, gave dewormer, and trimmed nails. During the physical
performed a physical exam, gave dewormer, and trimmed nails.  During the physical exam I was able to use skills I had learned in school to teach Meagan about the different components of a physical exam.  Overall, the first clinic day was a tremendous success.  In just one day I learned more than I ever expected!
Justina Koehler, Leon, Nicaragua 2014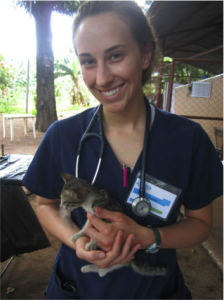 Today was our second day in Leon! We were all starting to get the hang of setting up the clinic after yesterday. A couple of volunteers and I were on surgery set up crew. We were in charge of setting up the surgery tables, emergency drugs, and other surgery materials. The clinic took place at the same school we went to on clinic day one. My partner was Julia, a pre-vet student. I really enjoyed being paired up with pre-vet students so that I was able to teach them. Julia and I started out with a surgery. She was the surgeon and I monitored anesthesia. She did great with her physical exam, catheter placement, and intubating the dog. She also did awesome with the surgery as well! I was a little worried to be doing anesthesia, in my opinion it is the scariest part of surgery. In the end our dog did very well! I felt more confident with monitoring anesthesia after that.
After our surgery, the day slowed down a bit.  The community the clinic was in is a fairly new location so we did not have as many patients as the latter clinics. Those of us who were not doing a surgery or consult, sat with one of the vets, Dr. Faran, and discussed emergency drugs. It was really interesting to hear his perspective on veterinary medicine and also really great that he wanted to learn from us as well. My last patient of the day was a kitten with which  I helped Kristin. He was the cutest little peanut. We examined him, trimmed his nails, dewormed him, cleaned his ears and eyes, and put some Frontline on him. After lunch, we went on large animal calls. We visited a few farms with pigs. They each got injections of vitamins and ivermectin. After our farm calls, we returned to the clinic site. By that time, it was time to pack up and head back to the hotel. Our clinic day ended with a little boy blaring his music and dancing in his doorway right next to the clinic location. He gave us all a good laugh and two of the volunteers even decided to join him.
A Day off at the Beach, Nicaragua 2014
After two days in clinics, we were given a free day!  We spent the day on the beach getting some rays and playing some volleyball.  The waves were pretty big and strong so there wasn't much swimming except for wading into the shallow areas.  While sitting on the beach, the local children would approach us selling crafts made of sea shells.  They had all sorts of things, bracelets, plaques, coasters, frogs or turtles crafted out of sea shells; and they were incredibly persistent on selling them.
The sun in Nicaragua is incredibly hot so I was happy we only spent the afternoon on the beach.  Around 4 o'clock, we packed up to head to our homestays, which were families in the town of Masaya offering up their homes for us to sleep in after our clinic days.
Zach Kline, Masaya, Nicaragua, May 2014
I awoke on June 10th in a manner so naturally and free of anguish that I could hardly believe it was as early as 6AM. Being one of the world's worst morning people, I had to consider the possibility of mind control or possession before acknowledging the factors of my current situation that allowed me to raise from slumber so smoothly. The room could be considered very "open" in that all that separated the "windows" in the wall from the outside world were ornately patterned steel bars and decorative curtains. The lack of glass windows allowed the cacophony of nature to carry quite well into our "habitación"—making for a seriously effective natural alarm clock. Had I been a fella a little less enamored with the still-novel avifauna of Nicaragua, I probably would have wished ill will upon the raucous birds as I trudged through my morning routine. However, the country's proximity with the equator caused the sun to rise (and the birds to chirp) right around 6AM–the time we would have to be up and ready for clinics anyways. Plus, birds have no "alarm off" or "sleep" functionality readily accessible to sleepy humans, so ignoring the tortuous reminder that I would eventually have to remove myself from my bed was conveniently not an option.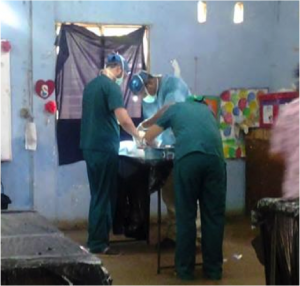 My host mom, "Mama Zenelia" had let me and my roommate Tim know that water shortages were short-term, albeit common, occurrences that plagued the city a couple times a week for a few hours at a time. Unbeknownst to even our host mother was the apparent severity of the drought that had befallen the nation during the summer months—especially during what was supposed to be the region's rainy season. That morning many of us took our first "bucket showers" in Nicaragua (the first one ever, as it was for me!). The cold, intermittent bowlfuls of water served as a humbling reminder of how precious clean, fresh water is as a resource, and of the wanton waste of it observed back in the United States. Having come back home, I hope to apply the lessons learned from living without fresh water readily available although it was a mere 48 hours, as much as I utilize the obtained surgical skills—it will be a dark time indeed when our faucets begin to run dry.
Our clinic site was a short drive into the suburbs of Masaya—a small schoolhouse named "La Abejita" (the little bee). The structure was a 2-room cinder block building with a sheet metal roof and concrete floor. Following suit with classic Nicaraguan style: the doors and windows were open to the outside world, adorned only with black colored steel bars. Despite the marked difference between the physical appearances between this schoolhouse, and the buildings where I completed my early education, the feel was very much the same. Colorful posters featuring characters from popular cartoons and Disney movies adorned the wall, teaching the alphabet, simple arithmetic, and important national symbols of the country; just as they would in the US. From the ceiling hung an assortment of crafts made by the students for "Día de Madre" (Mother's day), some of which I'm almost certain were made from macaroni glued to construction paper.
While the educational posters that decorated the walls of "La Abejita" would be considered objectively simplistic, I found it humorous (and a little bit embarrassing) the degree to which they captured our collective gringo attention. I recall a couple of us studying perhaps a bittoo intensely a poster of Woody from Toy Story detailing the names for basic body parts. "Tobillo" I thought as I stood there "yeah, that was the Word for ankle, wasn't it?" A moment later I remember remarking to a fellow vet student how strange it might be for the owners to entrust the lives of their pets undergoing surgery to a group of students with the Spanish competency of a Nicaraguan three-year old. Many moments (read: days) later I would thank myself for at least remembering the Spanish word for ankle as I sat with a sprained one against the wall of a schoolhouse at our last clinic site in Diriamba.
Despite how dumb our group must have sounded to the locals, we set about our task to remove the accursed reproductive tracts of their aforementioned pets. While the first two clinic days in Leon seemed sufficiently tumultuous to me, lead Veterinarian Faran Dometz assured us that the first two days amounted to little more than a practice round—Masaya would be the first true test of our group's efficiency. The VIDA mobile clinic is nothing more than about 8 folding tables and five large cases full of supplies and we had been charged with the task of knowing the ins and outs of one of three stations: Intake, Surgery, and Recovery. While all were distinct segments of the same clinical beast, each station had a lot of overlap with respect to the supplies utilized. Combined with the rather modest stockpile of drugs and equipment one might expect to find a volunteer-based free clinic, the process of moving an animal through presentation into surgery was often a struggle for resources. Thankfully emotions rarely (if ever) became heated between colleagues, instead the volunteers were forced to innovate new ways to communicate and share supplies more efficiently. It was great to be able to share our ideas for improving clinic efficiency during rounds at the end of the day—it felt as though we were making veritable contributions to the future of the program!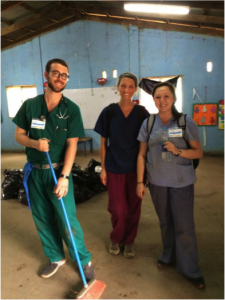 To my recollection, clinic day 3 was the day our team seemed to crest the metaphorical hill of chaos that we had trudged up the two clinic days prior. We had begun in Leon as a ragtag bunch–a bunch with hearts of gold, sure—but ragtag nonetheless. Out of the seventeen students on the Veterinary Team, the nine of us from UIUC were the only veterinary students. The remaining eight were still Undergraduate students: the majority of who had never trained with surgical instruments or suture before, and had minimal experience with animal handling and medicine administration. Combined with a short orientation covering perhaps 75% of the skills necessary to work in a clinic setting, our team might have unraveled were it not for the gargantuan patience of the VIDA clinicians, and the amazing drive of the student volunteers.
As one might be able to glean from the above paragraphs, the clinic settings inside "La Abejita" were less than ideal: dim, dusty, and exposed to the outside world, no area could truly be considered sterile. The intense summer heat and humidity sapped focus, and generally turned human skin into something more reminiscent of an amphibian. Even while wearing gloves, I couldn't help but feel that my hands had continued to accumulate a hefty dirt collection. Thankfully, our group had not come to Nicaragua to for a cozy tropical vacation, so these small discomforts did little to deter the group from our goal. For me, one of the strongest motivators to persevere, despite my apparent distaste for the weather conditions of this particular day (see photo—I don't think I've ever quite frowned as serious as that in my life) , was seeing the considerable line of people waiting outside the clinic site as we arrived at 8AM. Dogs and cats were often malnourished, ill, or wounded to a degree that is rarely seen in the US, however the love that the people had for their pets was evidenced by the very fact that they had waited hours in line to be there. I was especially moved by the amount of children who brought their pets to the clinic (admittedly that might be my gringo point of view romanticizing the situation). One young boy approached me while I was washing surgical instruments outside and began asking questions about a wound on the leg of his family's puppy. With a serious demeanor one would expect of somebody ten years older, he asked very astute questions about the nature of the treatment. I was moved by the depth of his concern and reminded of the powerful human element that fuels the core of veterinary medicine.
While the environment and some of the medications were markedly different from the ones I was familiar with from back in the States, the clinical aspect of the trip maintained the fundamentals of any Small animal practice. The dogs and cats tended demonstrate more fear or aggression during handling than they did in the US–they're not as much fixtures of the household in Nicaragua. However, the methods for recording their vital signs and performing physical exams remained constant. We took greater precautions to avoid injury by muzzling every patient (with a shoestring, no less!), but restraining techniques were found to be no less effective despite of the change in longitude! We did have our share of fractious cats and snarling dogs, which occasionally required some assistance from the seasoned VIDA technicians and veterinarians–at least one of those occasions resulted in a cat hanging by the teeth from the leg of an aforementioned VIDA vet.
If anything, the experience taught me that pets in the United States are far too prissy about the conditions of their toenails. I had seldom met a dog or cat in the US that had any sliver of affection for a good old fashioned toenail trim, yet in Nicaragua the patients were so calm about it that I could hardly believe that they weren't sedated beforehand! It was perhaps the most mind-blowing revelation of the trip.
Surgery certainly had its share of novel experiences as well, and probably bolstered my confidence as a clinician more so than any other portion of the clinical setting. Since hauling around several gas anesthesia machines would be cumbersome, expensive, and dangerous (look up a video of a compressed oxygen tank exploding if you don't believe me), VIDA opted instead for induction by chemical anesthesia. A simple intravenous injection of Ketamine and Diazepam (Dogs) or Acepromazine (Cats) induced an animal into an anesthetized state. Monitoring the patients under chemical anesthesia was a completely different animal from the cushy life of using easily-controlled gas anesthesia, but in doing so I learned to be attentive, methodical, and very effective in maintaining an animal at a safe plane of anesthesia.
The main reason that I chose to participate in the program was the opportunity to perform surgery, and I must say my expectations were met and subsequently surpassed. Drs. Faran Dometz, Jasson Figueroa, and Emilia Casco demonstrated patience at the surgical table that I never would have expected given the heat, humidity, and frantic pace of the clinic. Even during my two ovariohysterectomies that developed "complications" that afternoon (thereby earning me the nickname of "Mala Suerte Zacharia", or "Bad Luck Zach"), the doctors never once lost their cool or resorted to snapping at myself or the pre-vet student I was paired with. Performing surgeries on actual patients was made even cooler by the careful yet trusting guidance of the attending veterinarians. I can't quite express my gratitude for their commitment to ensuring that we constantly strove to refine our technique, as well as helping us break our bad habits. They truly made volunteering for a great cause feel even greater!
After clinic day 3 the pieces really started to fall into place. After that day, the heat didn't seem to get to me as much; we stepped up our rate of surgeries per day, and ultimately started working like a beautiful grandfather clock made out of humans (figuratively, of course). My experience in Masaya helped me to realize that even our group of Americans, spoiled though we were with the access to state of the art veterinary resources in the US, were tough enough to slug it out in a minimalist clinic environment. If this experience couldn't have reinforced my desire to practice veterinary medicine, I don't know what would have. What really could've use some reinforcement is my right ankle, though…
Rory Arrigo, Homestays, Nicaragua, May 2014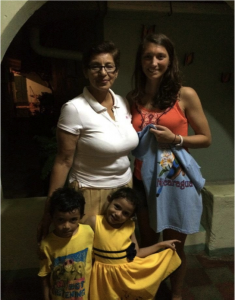 Littered streets, malnourished animals, and life out of a suit-case: this VIDA trip challenged me outside of the clinic more than I expected. We traveled on a bus, allowing us to see Nicaragua on a larger scale. This travel time also gave me space to reflect on our adventure. To not only think on the clinical experiences, but also to reflect on the culture of Nicaragua and what it would mean to have been born in this poor country. Hearing stories from our trip leader and the vet staff gave me insight into their lives. However, staying with a host family opened my eyes and heart to Nicaragua.
We stayed three nights in Masaya with our host families. I was placed with three other volunteers with a wonderful woman named Jeanette and her extended family. In this beautiful unique home lived six adults, two grandchildren, two dogs and a mango tree. Yet it wasn't only their house that they opened up. My host family was so generous and made us feel the comfort of a home. It was Sarah's (one of the grandchildren) fifth birthday, and she wasn't allowed to eat her birthday cake until we were home to sing and celebrate with her. That night we sat in front of their house as Jeanette told stories and Sarah and I quizzed our foreign language skills.
A large pipe had broken the day we arrived in Masaya and left the town without running water. We were all very nervous at the thought of not having running water, but we quickly learned that buckets and bowls could provide just as satisfying of a bath as any luxury shower (especially after a long clinic day). Our host families were very gracious with the extra work this broken pipe brought. They would save water for us in any way they could and constantly went out of their way to ensure our comfort and happiness.
This genuine care for strangers living in their home changed my perspective for the rest of the trip. It opened me up to see different layers of Nicaragua as well as different aspects of my life back at home. A few days later after we left Masaya, I received an email from Jeanette wishing us luck and expressing how she missed us "mucho mucho". It was a touching email that I will keep with me as I continue to meet new people and new challenges. To help me remember to be generous, gracious and open to sharing what is truly important.
Kristin Kuntz, Masaya, Nicaragua, May 2014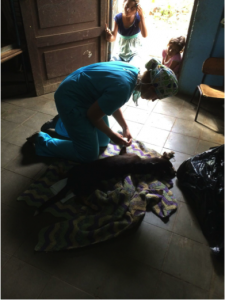 During our fourth clinical day, I teamed up with a pre-veterinary student from Texas A&M! Though this had been the typical arrangement for most students throughout the trip, I had previously been paired with a fellow U of I vet student. While all of us veterinary students have similar levels of experience (clinical rotations in the CSLC, working in animal hospitals, etc.), the pre-veterinary students had never performed a physical exam,administered injections, or restrained an animal before. This difference in background provided us with the unique opportunity to pass on our knowledge to the pre-vets. For each patient, my pre-vet student, Tim, and I went over a consistent pattern for performing a physical exam, the names and locations of palpable lymph nodes, measuring heart rate vs. femoral pulse, the typical sites for IM and SQ injections, and sites for IV catheters or venipuncture.
Each case provided good teaching moments for the pre-vet student, but they also presented me with lots of new learning opportunities! For example, though I can name and find the submandibular, pre-scapular and popliteal lymph nodes, I can't always tell if one feels enlarged or if it is just normal for that size and breed. The veterinarians and veterinary assistants were very willing to provide their input when they weren't occupied with surgeries or prepping patients. They explained the tick-borne diseases that were likely stimulating the lymph nodes to enlarge, and what antibiotics they would use to treat if they had the resources. I also had my first opportunity to assist in neutering an adult Rottweiler. While I had observed surgeons in Illinois utilizing the pre-scrotal technique, I had never seen a veterinarian use a scrotal approach. The Nicaraguan veterinarian, Jasson, preferred the scrotal technique because it allows for a bit of drainage from surgical site, reducing chance of post-operative infection. This is preferable, since we were about to move on to Diriamba, and would not be back in Masaya to check on these patients. The neuter was also unique for me because it was performed on a 7 year old, 100-pound dog, rather than the typical small, 6-month old puppy we'd see in American general practices. Due to the patient's size and age, the spermatic fascia and ligament were very taut, thus very difficult to breakdown to get exposure of the spermatic cord. Another challenge we encountered was due to the blazing heat. With the outdoor temperature in the high 90s, we dealt with several patients suffering from hyperthermia. We've been taught in school to use heating pads and bear hugger warming blankets to prevent post-op hypothermia, but in Masaya, I learned to combat the dogs' 104 F body temperature with IV fluids, spraying the body with alcohol and rubbing ice chips along the paw pads. I'm sure this will be good preparation for cooling down dogs during the hot summers back in Illinois!
Stephanie Palumbo, Apoyo Lagoon, Nicaragua, May 2014
After spending 4 days living with our homestay families in Masaya and working 2 more clinics days, we were given another day off! This time we spent our day at the very beautiful Apoyo Lagoon. This amazing place was by far one of my favorite experiences during the trip. The lagoon was within a crater that was created from the volcano erupting and filling with water. I have never seen water so clean, you could see right through it. The sides of the lagoon were covered with beautiful green vegetation and flowers.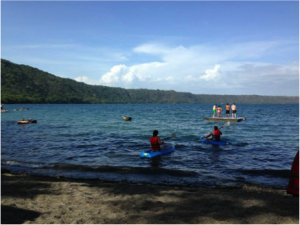 When we arrived at the monkey hut, we were each given a card with a different location/person/object on it as our identification card while ordering food all day. While we were pre-ordering our lunches everyone took advantage of the elevated deck to take pictures of the gorgeous lagoon. In order to walk down to the water, there was a very steep ramp and steps. We grabbed inner tubes and chairs on the way down. I was expecting the lagoon to be more crowded than it was. Pablo told us that the lagoon was more of tourist destination than a place the locals hang out. It was very peaceful to be able to spend time with our group and not have to worry about there not being enough chairs, inner tubes, etc. Pablo warned us to apply a lot of sunscreen, but since I was one of the lucky ones who did not get burned at the beach I didn't take as much precaution as I should I have…big mistake. Even after spending a lot of time in the shade I managed to get sunburned pretty badly. Aloe definitely became my friend the next few days.
Clinic days are an amazing opportunity and learning experience, but they can be extremely tiring in the humid heat! I spent most of day sun tanning on the floating platform 50 feet from the shore, floating for hours in an inner tube or reading a book on the beach. You can't have a relaxing day at the lagoon without stopping by the monkey hut for refreshments! Pina coladas, strawberry daiquiris and fruit smoothies were by far the most popular drinks of the day. Every fruit drink made in Nicaragua is made with fresh fruit cut right in front of you. So delicious! Lunch was ready by 1pm and was once again amazing. I decided to have chicken tenders, rice, palatines and a side salad to have a more American type meal. I liked every meal I had in Nicaragua, even the palatines that seemed to have an unlimited number of different ways to be prepared! In the afternoon, I spent most of the time in the shade talking to the rest of group, reading my book and occasionally napping.
The Apoyo lagoon was the perfect place to spend our recreation day relaxing and building more memories and stories to share with everyone back home. We left the lagoon around 4pm and traveled to our next destination for clinics in Diriamba!
Natalie Rupp, Clinic Day 5: Diriamba, Nicaragua, May, 2014
The last clinic day we had on the trip was in Diriamba. By this time, we were all pros at setting up the clinic, efficiently admitting patients for checks up and surgery, and recovery and discharge of the patients. I was paired with Justina as my surgery partner and we made a great team. The day before, Justina and I had dealt with an incredibly scared and fractious cat that bit her in the hand and scratched up my arms and hands. Going into today with some fresh battle scars, we were given a lot of puppies to do physical exams on. It was a great way to end the trip because who doesn't like puppies?
After the cat incident, the veterinarians sat us down to discuss how to handle a fractious animal and what may have been a better way to approach the situation instead of just carefully lifting the scared cat out of the box it was brought to us in. We learned that we should have put it in a squeeze cage to administer anesthetics easier and also cut down on handling of the animal. Another thing we were taught was a better method of placing a harness on a cat. Unfortunately we hadn't gotten a harnessed placed well on the cat before it decided to try and bolt away while munching on our hands as it ran. It was great experience dealing with animals that were not used to being held. In fact, throughout this entire trip, I feel that this was the most significant thing I learned…how to restrain properly and approach scared animals. Without a doubt, this is a priceless gift to have!
On this last day, we did 21 surgeries, yet we were completely finished with the clinic and cleaned up at 4pm. This was amazing timing considering the last time we had gotten through 21 surgeries, we were still finishing up surgeries around 4pm. Everyone was working as a team so well and no one sat around waiting for others to finish. If someone wasn't finished, the group would be pulling take home drugs, writing prescriptions and finishing discharges to help the unfinished pair get their patient out faster.
Diriamba was one of the smallest clinic spaces we had because it was all in one room. The intake area actually had to be set up outside to make more space since the schoolroom we were able to use was so small. This was tough with the wind but also inevitably helped keep the clinic quieter and less frantic because dogs were separated more. Each new setting we had to adapt to was tough but it just made us better at adapting to any situation we might be put in in the future. If I can stand in a surgery with long pants on, a facemask and surgical cap in 95 degrees and extreme humidity, I feel like I could handle any surgery site! What a great learning experience!
Amy Fink, Clinic Day 6: Diriamba, Nicaragua, May 2014
Our final clinic day was "Large Animal Day" and was filled with cattle, horses, goats and one very sick pig.
The cattle herd was a mix of Brahmans, Brown swiss and some hybrids that were collectively raised for both dairy and meat production on a little farm just outside of Diriamba. Most of the animals were dosed with a lipid-soluble Vitamin supplement and de-wormed with injectable Ivermectin. The farm hands and VIDA staff veterinarians restrained one animal at a time so the students could advance with syringes ready. It was great to see handling of these animals in a rural setting, here the workers rely on lassos, slip knots, tail jacks, and sweat to restrain. It was incredible to see them wrangle huge horned bulls with makeshift pulleys around roughly hewn-fences and a central tree stump that served to brace our enormous patients.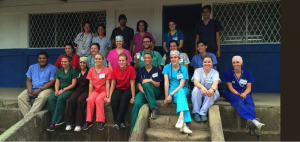 Unfortunately, a significant drought was affecting the entire area and these animals and the farmers were definitely feeling the strain. Our head veterinarian held an impromptu rounds session during a break and asked us to consider how much we were really accomplishing with these supplements and deworming treatments. He asked, "Will these really do much to help improve the condition of these animals? Is our work today going to help this producer make more money for these animals?" The sad answer was no, what these animals really needed was a steady, reliable food source. Some of the rural producers had to take their herds miles away to find a pasture where they could eat. Driving around the country, there were often cattle and horses loosely tied or freely roaming on the sides of the roads eating the grass there, probably because this was the closest, and most lush, "pasture" they had access to.
After treating the adult cattle, we moved on to the calves. Again the head veterinarian had a teachable moment and called our attention to a little calf with an umbilical hernia. He asked us how we would treat in these conditions. We answered as though this was a case in the US and he shot down our responses. With a lengthy drought and dwindling resources, the farm's owner was debating keeping his herd at all and could not be expected to spend time or money to fix this calf. He explained that the best thing we could do was educate. He explained to the farm owner how best to prevent hernias in the future, with cleaner husbandry following the birth to hopefully prevent an infection at the umbilicus.
The goat farm we visited was facing similar concerns to the cattle-there simply was not enough food. The owner was feeding a diet very high in roughage with little nutritional value simply because that was all she had available.
Of all our clinic days, Day 6 was perhaps the most humbling as we learned not only about the conditions these animals live in, but also saw the struggles of farmers in these small communities. As we said our final goodbyes to our staff doctors and veterinary assistants, one of the assistants, Diana said something that I hope will always resonate with me as I continue in my career. She said, "We are blessed to do what we love, you guys even more than others with the education you have access to. You have to remember to give that love back."