Scientific Models Use Weather Data to Predict State's West Nile Virus Infection Rates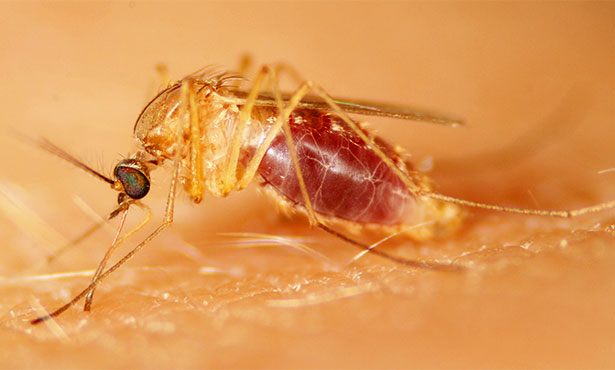 CHAMPAIGN, Ill. – As this year's West Nile virus (WNV) transmission season begins, researchers from the University of Illinois have made available forecasting models they created for each of the nine climate areas of Illinois to predict mosquito infection rates on a weekly basis. Mosquitoes transmit WNV to humans.
"When there is an increase in the mosquito infection rate, an increase in the number of human cases of the virus can be expected," said Nancy Westcott, research climatologist at the Midwestern Regional Climate Center, University of Illinois, and one of the leaders in making the models available.
The Illinois mosquito infection rate models can be found online at go.illinois.edu/westnile.
This website is one way to put science into action. We created a strong predictive model for DuPage County, and by releasing the statewide models we hope to make that research accessible and relevant to the public.

Marilyn O'Hara Ruiz
The statewide models were designed using a successful approach that Marilyn O'Hara Ruiz, director of the
Geographic Information Systems and Spatial Epidemiology Laboratory
at the College of Veterinary Medicine, had developed for DuPage county, with Lindsay Shand, a graduate student in statistics.
Basically, last month's weather is used to predict this week's mosquito infection rate. The models rely on the relationship between weather parameters and measured historic mosquito infection rates; the measured mosquito infection rate data are from mosquito testing programs conducted by local public health districts and reported by the Illinois Department of Public Health (IDPH). Using current weather data, National Weather Service temperature (10-day) and precipitation (3-day) forecasts, and last year's seasonal temperature and precipitation values, the models are able to predict mosquito infection rates one to two weeks earlier than is possible by directly measuring mosquito infection through testing programs.
Westcott, Ruiz, and epidemiology doctoral student Surendra Karki created the models found on the new website, which show predictions of mosquito infection rate over time, measured mosquito infection rate when available, and, for comparison, the rate for a "high" WNV year (2012) and ten-year average mosquito infection rate in the nine Illinois climate areas.
Putting Science into Action
The goal in releasing this public website is to make data available to public health districts that issue warnings about the virus, as well as to anyone who is concerned about West Nile virus locally.
"This website is one way to put science into action," noted Ruiz. "We created a strong predictive model for DuPage County, and by releasing the statewide models we hope to make that research accessible and relevant to the public."
The researchers are hoping for feedback from public health departments and users across the state so that the models for each region can be refined. "The nine regional models can still be improved, but we want to share what we have learned so far and improve these as we learn more," said Ruiz.
The website also offers links to the DuPage County model and one developed for Champaign County using a different data approach. In addition, the site links to statewide resources related to West Nile virus. Funding to develop the website and models was provided by the Prairie Research Institute, the Wheaton Mosquito Abatement District, the DuPage County Health Department, the Forest Preserve District of DuPage County, and the National Science Foundation.
The new models indicate that fewer Illinoisans will experience infections this year compared with the high infection rate seen in 2012, although there could still be a moderate number of human cases of the virus in Illinois, depending on the weather in August.
Facts about West Nile Virus
As of August 2, three human cases of the virus have been reported in Illinois, and 23 counties have mosquitoes that have tested positive as carriers for the virus, according to the IDPH.
From 5 to 185 severe cases of WNV have occurred in Illinois each year since 2004. Hot, dry summers are the best climate conditions for Culex pipiens, the type of mosquito that transmits WNV to humans. (The photo at the top of this page shows a Culex mosquito that has just consumed a blood meal.)
Mild cases of West Nile infections may cause a slight fever or headache. More severe infections may cause a high fever with head and body aches, disorientation, tremors, convulsions, and, in the most severe cases, paralysis or death. Usually symptoms occur from three to 14 days after the bite of an infected mosquito.
Transmission of the virus to humans typically starts in late July. The Culex mosquito is most active from dusk to dawn, so the risk is highest during those hours.
The Culex mosquitoes are a container species—breeding in small, man-made bodies of water, such as old tires, bird baths, clogged gutters, and container plants holding excess water. Such areas should be drained to help decrease the population of virus carriers.
---
About the Prairie Research Institute: The Prairie Research Institute (PRI) at the University of Illinois at Urbana-Champaign comprises the Illinois Natural History Survey, Illinois State Archaeological Survey, Illinois State Geological Survey, Illinois State Water Survey, and Illinois Sustainable Technology Center. PRI provides objective natural and cultural resource expertise, data, research, service, and solutions for decision making, the stewardship of Illinois' resources, and the public good. www.prairie.illinois.edu
About the College of Veterinary Medicine: The College of Veterinary Medicine educates future veterinarians and biomedical scientists; makes discoveries that improve animal, human, and environmental health; facilitates production of a safe food supply; and delivers outstanding clinical care to animal patients. The only veterinary degree program in the state, and one of only 30 in the country, Illinois is distinguished by its innovative veterinary curriculum. vetmed.illinois.edu
Media contacts: Nancy Westcott, 217-244-0884, nan@illinois.edu; Marilyn O'Hara Ruiz, 217-265-5115, moruiz@illinois.edu