Of Milkshakes, Reversible Lameness, and the Growing Reputation and Legacy of Illinois Veterinary Medicine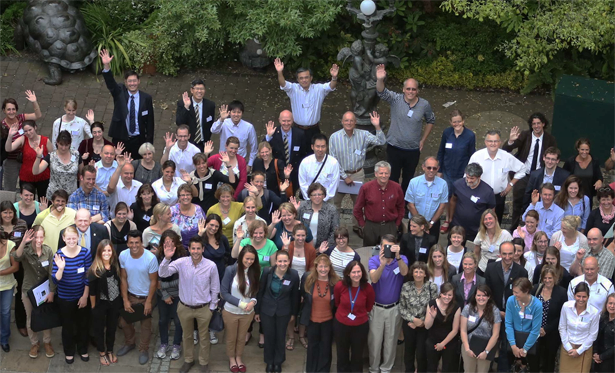 This message appeared in the summer 2014 issue of the Illinois State Veterinary Medical Association Epitome.
Outstanding faculty, students and alumni
are associated with the Illinois veterinary program, a fact that I repeatedly encounter as I travel the state and the world.
In June I presented at the Ninth International Conference on Equine Exercise Physiology (ICEEP) in Chester, England. This meeting is held every four years in locations around the world, where veterinarians and exercise physiologists share the latest in equine sports medicine and exercise science, from applied training and rehabilitation techniques to ground-breaking research.
I am proud to relay that Dr. Jonathan Foreman, professor of equine medicine and associate dean for academic and student affairs at Illinois, was elected at this meeting to serve a 12-year term on the international committee that oversees this prestigious conference. Dr. Foreman is one of only five people in the world who have attended all or all but one of the nine ICEEP meetings held to date. (Dr. Foreman missed only the first one, held in 1982 in Oxford while he was a resident and graduate student.)
Dr. Foreman presented original research at the 2014 conference, and so did an Illinois student who just completed her second year of veterinary studies and who just happens to be Dr. Foreman's daughter.
They each presented research studies, one experimental and one using retrospective data, that indicated considerable variability in measures of total plasma concentration of carbon dioxide (tCO2) over time within and among individual horses. This work has implications for racing jurisdictions that use measures of tCO2 to determine whether racehorses have been given illegal "milkshakes" (exogenous alkalinizers) to enhance performance. Dr. Ben Bergstrom, Class of 2013, contributed to these studies as part of the Summer Research Training Program.
In two additional individual presentations at ICEEP, Catherine and Dr. Foreman reported on the efficacy of intravenous dexamethasone and of phenylbutazone and firocoxib in alleviating lameness, as compared against placebo.
Key to the lameness research is an ingenious model of equine foot pain that Dr. Foreman pioneered. Lameness is induced in normal horses using an adjustable heart bar shoe that applies pressure to the frog; the horses return to soundness when the shoe is readjusted to eliminate the pressure. The eight horses used in the studies were not impaired long-term and went on to live useful lives at stables rather than being euthanized, as was formerly the fate of horses used in lameness research.
"It was very intimidating," said Catherine Foreman of her first experience presenting at a scientific meeting.
"My first talk was the second presentation at the start of the conference," she said. "My dad did a really good job of prepping me the night before and advising me how to word certain information to sound like a professional, not like a vet student.
"It was humbling to present two talks among the many experts whose papers and book chapters I've read. And the studies on biomechanics and kinematics for equine athletes were really eye-opening for me."
Catherine Foreman was raised in the world of horses. Her mother, Terri, operates a stable, provides riding lessons, coaches the Illinois undergraduate equestrian club, and so on. Catherine's earliest memory of "competing" was being disappointed with the blue ribbon that all the preschoolers in the leadline class received. (She wanted a pink one.)
She's developed quite a skill set in the intervening years. While a full-time veterinary student, Catherine was a three-time division qualifier for the Intercollegiate Horse Show Association National Championships at Harrisburg, Pa., finishing tenth in the Alumni Under Saddle Division in 2013. In July, she and her younger sister Sarah won a national championship in the Advanced Mounted Games Division at the United States Pony Club Championships in Lexington, Ky. She has also qualified to compete in the Indiana Hunter Jumper Association Equitation Medals Finals this summer.
Catherine did an excellent job presenting at ICEEP. In fact, the dean of the Faculty of Veterinary Science at Melbourne University, Ken Hinchcliff, asked me if we have more students like her at Illinois.
Though each of our students is unique, Catherine is not the only current veterinary student who has a veterinarian for a parent. Others include Alec Fedyniak, Patrick Knaak, and David Strathman in the Class of 2015; Julie Voelker in the Class of 2016; and Carolina Garcia, Henry Johnson, Nicholas Mallory, and Ben Rivard in the Class of 2017.
Jennifer Wagner, Class of 2016, is the daughter of two veterinarians from Kankakee, and Katelyn Vollmar, of New Prague, Minn., who just finished her first year of study, is the daughter, granddaughter, and great-granddaughter of veterinarians.
Here's to the proud tradition of Illinois veterinary medicine, and to the established and rising professionals from our college who are advancing the profession!
—Dean Peter Constable