Marvet Trip, Mexico, 2012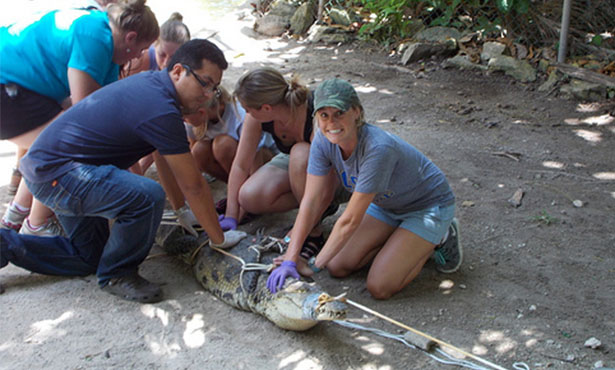 To say that this was an amazing experience is a complete understatement.  I registered for Marvet Mexico, thinking that I would not be chosen.  When I was chosen, I attended, thinking that it would be a nice diversion since I do not plan to work with marine mammals (although I greatly appreciate them).  Since growing up in northern Florida and southern Georgia, I had always had a vague dream of at least working briefly with sea turtles.
Marvet was a vast surprise.  There was a strong emphasis on conservation, but there was also an intense emphasis on public health.  The public health aspect both surprised me and intrigued me, due to my strong interests in public health and disease control.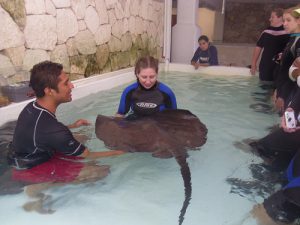 We started out at Dolphin Discovery, which is a marine park near where we were staying at Playa del Carmen, Mexico.  The first few days were primarily lectures from various experts in the field of marine mammals.  We were taught about the animals, everything from basic physiology to reproduction and common diseases.  The veterinarians and dolphin trainers from the marine park also lectured us.  The emphasis of the lectures from the park was primarily on how to work together.  Both the trainers and the veterinarians emphasized respecting each other's jobs and realizing that both careers need the other.
On the second day, we were able to learn about the feeding habits and digestion of manatees.  We were able to feed and then snorkel to observe the park's manatees underwater.  During our time, we also observed a voluntary dolphin ultrasound and voluntary dolphin endoscopy.  The park works hard to train their animals to do voluntary medical procedures in order to reduce the use of anesthetics in their animals.
Later that week, we moved to Xcaret, another marine and ecotourist park.  While there, we were able to learn about and work with green sea turtles, nurse sharks, sting rays, fish, and manatees.  My favorite experience in Xcaret was learning to catch the sea turtles in order to draw blood on them.  While we still were in an enclosed pond, we were actually able to swim out, catch, and then maneuver the sea turtles into a more secluded section of the enclosure.  Once we had the turtles restrained, we drew blood, using the jugular sinus, cleaned off the shell for aesthetic purposes, and then released them.  We also had the opportunity to handle and to draw blood on sting rays.  We later did a dissection on a sting ray and a green sea turtle, both of which had died of natural causes.  The comparative anatomy was striking between these two species and our more common mammalian, domestic species.  One of the final eco-parks that hosted us was dedicated to crocodiles.  We had the amazing opportunity to help catch, restrain, and perform blood draws and injections on adult crocodiles.
As part of the program, we were taken out into the open ocean to visit the whale shark feeding grounds off the Yucatan Peninsula.  We were able to swim with the whale sharks, which was an amazing opportunity.  These animals are unbelievably huge, and it takes an up-close experience to realize the vastness of their size!  For my first time in the water, I was dropped into the open ocean.  I cleared my snorkel and looked and barely fifteen feet away from me and headed directly towards me was the huge mouth of one of the whale sharks!
Even though we were kept busy with lectures and hands-on activities, we were given free time to explore the local area.  There are eco-parks nearby, as well as Mayan ruins.  While in Mexico, I had the privilege of visiting the Mayan ruins, including one of the last sites that allows tourists to climb to the top.  One of my new friends and I went snorkeling on our own and we spotted several sting rays just off the beach where we were staying!
Overall, this was an amazing experience.  If given the opportunity, I would gladly return.  The coordinators of the program are fantastic, and the professors that lecture are very knowledgeable on their respective subjects.  Having the ability to learn about marine mammals and sea turtles not only afforded a comparative basis for more common domestic mammals but also gave me greater experience in public health.  Before this opportunity, I only had a limited recognition of the relationship of public health to marine life and conservation.  Beyond the educational opportunities, I made some priceless contacts in Mexico, both among my peers and among the faculty.
While clearly not a study tour designed for everyone, I strongly recommend MARVET to anyone who has an interest in public health, conservation, or zoo and marine medicine.  The MARVET program is designed for those willing and interested in learning more about these fields.  Students are kept very busy, and there is a large portion of lecture material at the beginning of the program.  However, the knowledge gained through the lectures makes the hands-on activities even more useful and enjoyable.