John Herrmann Earns AAVMC Melcher Public Policy Award
The Association of American Veterinary Medical Colleges (AAVMC) announced today that Dr. John A. Herrmann, from the University of Illinois College of Veterinary Medicine, is the recipient of the 2014 Senator John Melcher, DVM Leadership in Public Policy Award.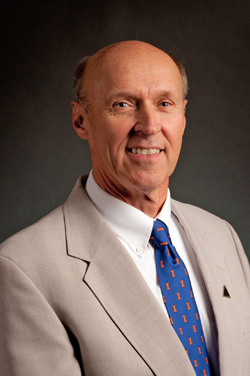 At the University of Illinois, Dr. Herrmann directs the Doctor of Veterinary Medicine/Master of Public Health (DVM/MPH) program as well as the Center for One Health Illinois and serves as a clinical associate professor in the Department of Veterinary Clinical Medicine. He will receive the award during the AAVMC's 2014 Annual Conference in Alexandria, Va., on Friday, March 14, before more than 200 conference attendees, including veterinary college deans, faculty and associated dignitaries from throughout the United States and the world.
The Senator John Melcher, DVM Leadership in Public Policy Award, established in 2007, is given to current or former faculty, staff, or students at an AAVMC member institution to recognize leadership in public policy that advances veterinary medical education and success in advocating for veterinary medical education on a national or international scale.
"Dr. Hermann's work on behalf of public health has made the world a safer and healthier place," said Dr. Kent Hoblet, dean of the College of Veterinary Medicine at Mississippi State University and president of the AAVMC. "He understands the value of advocacy and has made it his mission to advocate for public health at the grassroots level and also in the realm of public policy. It is an honor to recognize his efforts with the AAVMC's Leadership in Public Policy Award."
During Dr. Herrmann's 25-year career as a private practice veterinarian focusing on dairy herd health, small animal medicine, and wildlife rehabilitation in Freeport, Ill., he became involved in public health issues at the county and state levels, and he eventually chose to earn a masters degree in public health. He then spent a year as a AAAS/AVMA Science and Technology Policy Fellow in the United States Senate in the offices of Sen. Richard Durbin (D-IL), a position which led to his significant contributions on policies designed to improve food safety, ensure humane treatment of animals, promote an adequate workforce in the areas of public health and veterinary medicine, and unite the efforts of health disciplines through the "one health" concept.
Since joining the faculty of the University of Illinois 10 years ago Dr. Herrmann has established a vibrant joint degree DVM/MPH program and mentored 57 MPH students. As director of the veterinary college's Center for One Health Illinois, he has also helped to form a strong statewide coalition of local and state health agencies to promote research and public engagement and to improve infrastructure for detecting and responding to health threats among human, domestic animal, and wildlife populations.
In nominating Dr. Herrmann for the award, two of his colleagues from the Illinois veterinary college, Drs. Clifford Shipley and Yvette Johnson-Walker, wrote, "At a time when public policy is often swayed by ideology and political agendas, Dr. Herrmann has served as a voice of scientific reason and logic in his advice to legislators at the local, state, and federal levels, and in his instruction of the veterinary students who will assist in the development of future policies affecting the practice of veterinary medicine and the protection of human, animal, and environmental health."
Dr. Herrmann joined the faculty of the College of Veterinary Medicine in 2004 to develop and direct the joint degree DVM/MPH program. Since 2003 he also has served as an adjunct professor at the School of Public Health, University of Illinois at Chicago and at the College of Medicine, University of Illinois at Rockford.
Dr. Herrmann earned a bachelor's degree in biology from Illinois Wesleyan University, a doctor of veterinary medicine degree from the University of Illinois College of Veterinary Medicine, and a master's degree in public health from the University of Illinois at Chicago. He is a diplomate of the American College of Theriogenologists, specializing in cattle and canine reproduction.
The Association of American Veterinary Medical Colleges (AAVMC) is a nonprofit membership organization working to protect and improve the health and welfare of animals, people and the environment by advancing academic veterinary medicine. Its members include 35 veterinary medical colleges in the United States and Canada, nine departments of veterinary science, eight departments of comparative medicine, thirteen international colleges of veterinary medicine, and six affiliate colleges of veterinary medicine: www.aavmc.org