Intern Gains USDA Food Production Insight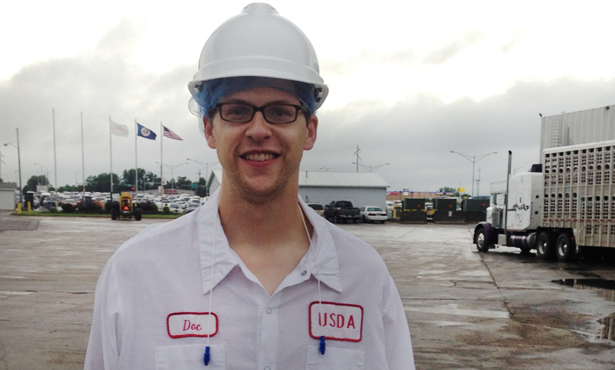 I spent most of my time this summer completing an internship with the USDA Food Safety & Inspection Service (FSIS). My duty station was Worthington, Minn., which is in the southwestern corner of the state, about an hour east of South Dakota and 15 minutes north of Iowa, with approximately 13,000 people. The plant is operated by Swift & Company, which is owned by JBS S.A., the world's largest processor of fresh beef and pork.
Family, friends, and even people inside the profession wondered why a veterinary student would choose to use their precious summer break experiencing the way the food production and inspection system functions in United States processing plants.
Why do veterinarians work for USDA FSIS?
The FSIS mission statement reads: "The Food Safety and Inspection Service (FSIS) is the public health agency in the U.S. Department of Agriculture responsible for ensuring that the nation's commercial supply of meat, poultry, and egg products is safe, wholesome, and correctly labeled and packaged."
The FSIS needs people educated and trained in those areas, and there is no more complete skillset to realize that mission than that of a veterinarian.
What do FSIS veterinarians do?
Their job is two-fold: to ensure the humane handling of the animals prior to slaughter, and also to monitor the safety and quality of the food after slaughter.
How do they do it?
They do it by checking for injury and illness both pre- and post-mortem. Each group of animals is seen prior to slaughter, and individual animals that give the veterinarian cause for concern are taken from the herd for thorough examination. After slaughter, the entire carcass is examined for anything that may make the animal unsafe or unfit for consumption (e.g., pathology).
What happens during a typical day?
Each processing facility has an Inspector-in-Charge, or IIC. And every USDA FSIS IIC is a veterinarian. So in addition to what's described in the previous answer, they are in charge of creating and managing inspectors' schedules, and they are also the liaison between the inspectors and the plant. The IIC is also trained to inspect at each Critical Control Point. This allows the IIC to perform relief duty if the regularly assigned inspector needs someone to fill in (e.g., bathroom break, home sick) as well as train and supervise less experienced inspectors.
The internship was an outstanding experience. The people I worked with were not only skilled handlers and inspectors, but also willing and capable mentors. Through both observation and conversation, they taught me so many things I didn't know about their roles.
I know infinitely more about food production now than I did before this summer. What I learned helped shape who I am as a future veterinarian, and will unquestionably impact the rest of my journey through the profession.