Inherited Ocular Diseases: Using CAER Exams to Show We Care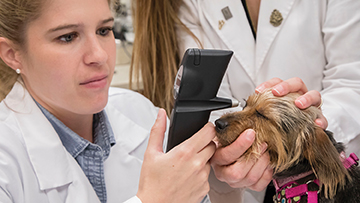 The Companion Animal Eye Registry (CAER) examination, carried out by board-certified veterinary ophthal­mologists to screen dogs for inherited eye problems, is an important tool for preventing ophthalmic disease. Just as you may recommend prospective breed­ing dogs be evaluated for hip, elbow, or cardiac disease, so too can you recom­mend these animals be screened for ocular disease. CAER exam results are maintained as part of the Canine Health Information Center (CHIC), a program of the Orthopedic Foundation for Animals (OFA), to inform breeders so they may make sound breeding decisions and thereby produce healthier puppies.
During the exam, dogs will receive topical tropicamide to temporarily dilate the pupils. Subsequently, a detailed eye exam will be performed via slit lamp and fundic examinations. Tear testing, intraocular pressure evaluation, gonioscopy, electroretinography, and fluorescein staining are not routine parts of the CAER examination. If you suspect ophthalmic disease in a patient, it is likely more appropriate to refer this individual for a standard evaluation rather than a CAER exam.
When a CAER form is submitted to OFA, animals free of inherited eye disease are issued a certification number. Owners receive a report and the results are published to the OFA website for public access. CAER certifications are valid for one year, so exams should be repeated annually. Currently, eleven ocular diseas­es carry an automatic recommendation against breeding: dry eye, cataract, lens laxity, glaucoma, PHPV/PHTVL, retinal detachment, optic nerve coloboma, optic nerve hypoplasia, progressive retinal atrophy, and certain forms of persistent pupillary membranes and retinal dys­plasia. Animals with the above diseases caused by trauma or other non-genetic reasons may still be eligible for OFA certification.
Every May since 2008, the American College of Veter­inary Ophthalmologists (ACVO) has held the National Service Animal Eye Examination event, coinciding with AVMA's National Pet Week. Due to concerns surrounding the pandemic, the 2021 eye exam event has been can­celled. However, this should not reduce our awareness of the importance of ocular health in companion animals, particularly those that selflessly serve. Performing a thorough ocular examination at all preventive care and prepurchase examination visits is an essential step toward catching sight-threatening issues early. As the old adage goes, an ounce of prevention is worth a pound of cure.
Some ophthalmic conditions result in the advice of "breeder option" as they are suspected as inherited but do not signifi­cantly impact eye function. Following form submission, animals with "breeder option" conditions will be granted an OFA certification number, but the report will also contain documentation of the dis­ease code(s). It is important to recognize that, even if a condition is classified as "breeder option," this does not mean the animal is an ideal candidate for breeding.
The ACVO Genetics Committee regu­larly reviews CAER data and uses it, in combination with scientific literature, to generate breed-specific guidelines. Recommendations vary by breed, even for the same disease. The committee updates the Blue Book, a compilation of breeding advice guidelines, at least every 6 years. It is available online at https://www.ofa.org/ diseases/eye-certification/blue-book.
You can help reduce the incidence of hereditary canine eye disease by recommending CAER examinations to your clients with active or prospective breeding dogs. Clients looking for puppies can access the OFA CHIC to find reputable breeders whose stock have been found clear of inherited eye, heart, and joint disease.
To contact the ophthalmology service, e-mail: vet-eyes@illinois.edu
By Kathryn Fleming, DVM, PhD, DACVO