Important Opioid Updates for Veterinarians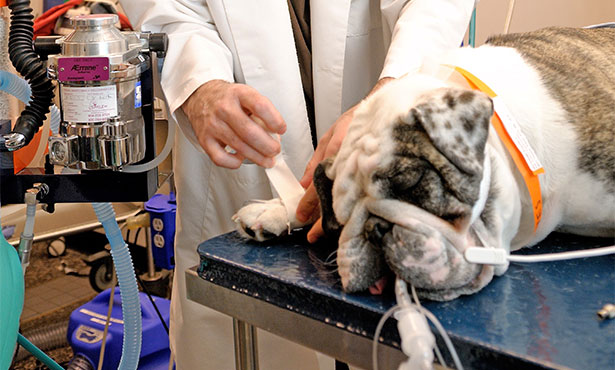 New Illinois Law, Coming Shortages Require Action
National Opioid Drug Shortage Will Pose Challenge to Patient Pain Management
The next time you reach for opioid pain medications for a patient, don't take them for granted. In the coming months, the veterinary profession may face extreme shortages of opioids, including fentanyl, hydromorphone, morphine, and methadone, after the U.S. Drug Enforcement Administration's 25-percent decrease in the production of Schedule II opioid medications in 2017. The DEA is currently proposing a 20-percent reduction for 2018. The quota reduction is an effort to combat the growing opioid epidemic.
The remaining available supply of opioid medications is being preferentially distributed to human hospitals, which are already facing serious drug shortages. Many human hospitals can no longer acquire morphine, for example.
Veterinarians may need to alter their typical pain management protocols in light of these drug shortages. We've compiled some tips and dosages.
We will continue to provide updates on this topic, as well as information on pain management therapies that will not be affected by the national drug shortage.
Additional resource
Illinois Law Requires Veterinarians to Register as Prescribers by January 1, 2018
Any veterinarian who writes prescriptions for controlled substances must enroll in the Illinois Prescription Monitoring Program, according to Illinois Senate Bill 772, signed into law by Governor Bruce Rauner on December 13.
The registry will require veterinarians to document in the medical record their attempt to access client prescription history in the state's PMP database to identify owners who may be trying to obtain opioids to use or sell illegally.
For more information, and to register, visit:  https://www.ilpmp.org. Those who encounter difficulty accessing the website have been advised to email the PMP office at dhs.pmp@illinois.gov or fax (217) 557-7975 to document their attempt to register.
Information as of January 25:
Because the law is in effect and it requires veterinarians to look up a client in the database before prescribing a schedule II medication for the first time, the ISVMA is recommending veterinarians who do not yet have PMP access to document their lack of access in the patient record. (Few veterinarians have access at this time.)
The PMP office is currently sending new registrants their password and login by email approximately 3 to 4 weeks after they registered. Registrants should check their email and spam folders.
Veterinarians who registered before December 24 have reported that they have access to the database and have the ability to look up confidential client health information.
The state has not provided information regarding how veterinarians should ensure the confidential nature of the prescription history data or how the data should guide dispensing practices.
Check the ISVMA and College of Veterinary Medicine websites for additional information as details become available.
—Dr. Ashley Mitek