I'm Bullish on Veterinary Medicine at Illinois
This message appeared in the spring 2014 issue of the Illinois State Veterinary Medical Association Epitome.
I'm absolutely delighted to be the dean
of the University of Illinois College of Veterinary Medicine and to have the partnership of the ISVMA and its members in advancing the profession through teaching, discovery, and service.
A dean wears a lot of hats. One of the most fundamental roles is to recognize and celebrate the strengths and accomplishments of our institution, and at the same time to catalyze the enthusiasm and potential of the people within the institution so that together we create and follow a roadmap for a stronger future.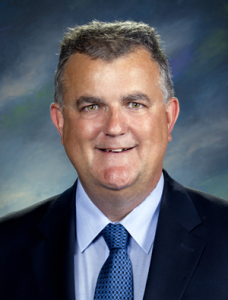 This approach served me well while I was head of the Department of Veterinary Clinical Sciences at Purdue's veterinary college from 2005 to 2013. And because I started my academic career on the food animal medicine and surgery section of the clinical medicine department at Illinois, from 1993 to 2005, I was very familiar with the resources and many of the people at Illinois, and came to the role of dean ready to lead a first-rate college.
However, as a scientist, I am data-driven. So in my first months on the job I've devoted myself to seeking out and listening to every faculty member in the college so I can get up to speed on the immediate challenges and opportunities as well as the longer-term potential. You will not be surprised to learn that I have found a great deal of evidence to support my initial confidence in the future of the college.
At present, the college is undergoing a period of reexamination. In the fall semester, through a process of discussion and analysis of the existing strategic planning document, we will elevate a short list of aspirational objectives that can be accomplished in the next five years. Equipped with that plan, I will be wearing my "communicator" hat and reaching out to every Illinois veterinarian and college alumnus to share our goals and seek areas of common interest and partnership.
One of my first opportunities to share a collective vision for the college with all of you will be at the annual Fall Conference for Veterinarians, scheduled for September 11 and 12. I'll be speaking at 8 am on the first day of the conference, and I hope many of you will attend.
I have distilled my personal values as a leader to the following precepts:
Be fair, honest, consistent, and transparent in all interactions
Be an effective communicator and keeper of the shared institutional vision, goals, and culture
Value collegiality and teamwork in all interactions
Value and embrace diversity, creativity, leadership, and impact while being respectful of tradition and institutional history
Be a great listener
As for other details about myself, I am a native Australian who completed my veterinary studies at the University of Melbourne. I practiced in Australia and England before embarking on a career in academia in the United States. I completed an ambulatory internship and food animal medicine and surgery residency at The Ohio State University, and earned both a master's and a PhD there. I have board certification in veterinary internal medicine and nutrition.
My research interests center around food animal medicine and surgery, as well as veterinary education and cardiovascular physiology, including a series of studies with dogs running in the Iditarod Trail Sled Dog Race.
I truly do look forward to hearing from you, and encourage you to contact me at dean@vetmed.illinois.edu.