Illinois Zoo Pathology Graduate Looks into Mysterious Turtle Fungus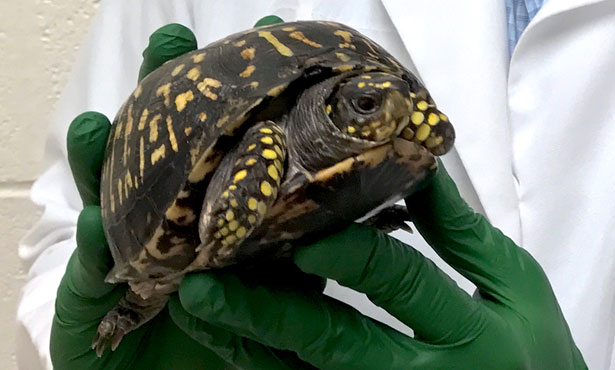 An emerging threat to freshwater turtles has become the focus of study for Dr. Daniel Woodburn. Dr. Woodburn was recently awarded a Morris Animal Foundation research fellowship to continue studies begun during his master's project in the Zoological Pathology Program at Illinois.
The first case of this previously unknown fungus, which appears on the shells of some freshwater turtles and causes high mortality, was reported in 2000. There have since been about 15 reported cases from various zoos.
"The lesions were very unusual; from the top of the shell you wouldn't expect them to look as bad as they do underneath. It was discovered to be a fungus that had yet to be described, so my master's project sought to discover what it is and what it's doing," said Dr. Woodburn, who considers freshwater turtles among his favorite species.
And he has worked with a large number of species.
In the prestigious Zoological Pathology Program, residents spend one year in Urbana at the University of Illinois Veterinary Diagnostic Laboratory to gain basic competence in pathology. The following two years are spent in Chicago, working with the Brookfield and Lincoln Park zoos as well as the Shedd Aquarium. Dr. Woodburn also spent three weeks each at the Marine Mammal Center in Sausalito, Calif., and the Pretoria Zoo in South Africa to conduct more in-depth research.
"I've worked with a wide range of species, from sea anemones to rhinos. In South Africa I studied buffalos; it was all great experience," Dr. Woodburn said.
After completing the zoological pathology residency in 2015, Dr. Woodburn applied for the research fellowship to continue pursuing the turtle fungus while completing a PhD degree at Illinois. The Morris Animal Foundation is a nonprofit organization that helps fund research studies that will ultimately protect and treat animals. Its fellowship program is "designed to assist new investigators in launching a successful research career by providing salary support in a quality mentoring environment."
In order to uncover the mystery fungus, Dr. Woodburn sequences DNA from tissue containing the fungus. When the research began, he had access to only frozen tissue that was difficult to work with. However, after presenting about the fungus at a conference in 2014, word spread through the veterinary pathologist grapevine.
The Washington Department of Fish and Wildlife focuses heavily on conservation efforts for the western pond turtle, and reported noticing the same type of lesions on the shells of the endangered reptiles.
The Washington conservationists reached out to Dr. Woodburn and sent him fresh tissue samples, containing what they thought to be the same fungus. After more DNA sequencing and other tests, Dr. Woodburn confirmed that the western pond turtles indeed had the same shell lesions as he had been studying.
"Unlike the previous frozen samples, these fresh ones enabled me to grow the fungus in the lab. We're still trying to figure out exactly what it is; definitely something that has not been sequenced before," Dr. Woodburn said.
"We don't know yet whether this fungus is a primary pathogen that causes the disease, or is more of a secondary pathogen that works in concert with other infectious agents or underlying shell disease to produce these unique lesions. At this stage we're exploring all possibilities.
Dr. Woodburn hopes his studies will lead to a better understanding of this fungal disease so that veterinarians and wildlife biologists can develop tools for improved diagnostics and health management strategies for captive and wild populations.
In the future, Dr. Woodburn hopes to be affiliated with a zoo or wildlife institution, while continuing his career as a pathologist.
—Emily Luce