Illinois Veterinary Student Elected to Lead International Organization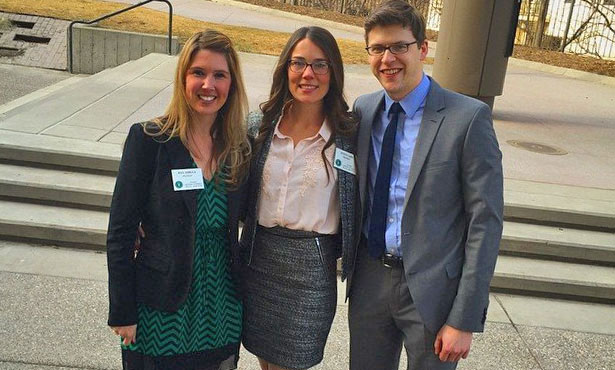 At the annual symposium of the Student American Veterinary Medical Association (SAVMA), held this year in Minneapolis, Minn., second-year veterinary student Matt Holland from the University of Illinois was chosen as president-elect. He will take office as president in 2016. Holland is currently enrolled in the joint DVM-MPH degree program at Illinois.
"One of the reasons I ran for the position is to advocate for communication and acceptance between members of the profession," said Holland. "I believe the extent to which humans can improve the lives of animals is made possible only by, and depends on, how well those humans can collaborate."
Holland, at right above, poses with past SAVMA president Ricci Karkula, a student at Texas A&M, and current SAVMA president Jessica Carie, who attends Colorado State University.
SAVMA represents over 14,000 veterinary student members in more than 30 student chapters at accredited veterinary schools in the U.S., Canada, the Caribbean, and the United Kingdom. A House of Delegates formed by two student representatives from each chapter select the officers serving on the executive board, including the president.
SAVMA convenes twice a year, at an educational symposium in March hosted by one of the student chapters and during the Annual Convention of the American Veterinary Medical Association in July. The executive board meets monthly by teleconference. The president presides over both the executive board and the House of Delegates.
Holland follows in the footsteps of another Illinois veterinary student, Elysia Schafer, who served as SAVMA president in 2004-05. After completing a large animal internship at the University of Minnesota, Dr. Schafer returned to Illinois for an equine surgery residency and was elected in 2007 to the AVMA's Council on Veterinary Service, representing the recent graduate constituency.