Oh, the Places They'll Go…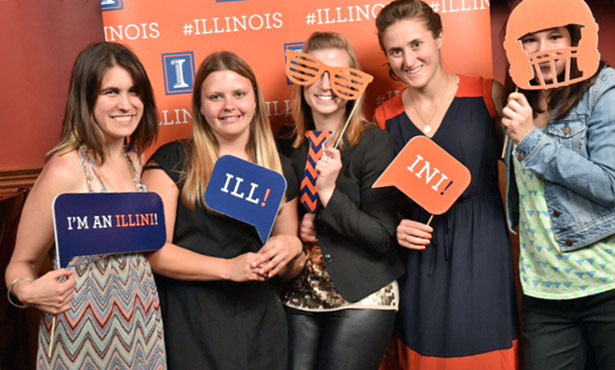 … and the species they'll treat, the specialties they'll pursue, and the difference they'll make in the lives of people and animals everywhere.
After four years engaged in one of the world's most innovative veterinary curricula, the Illinois Class of 2016 will recite the Veterinarian's Oath together on Friday, May 13, and disperse to parts distant and near. Here is a sampling of the destinations for several of our 116 new graduates.
Sweet Home, Chicago
The College of Veterinary Medicine has historically reserved a majority of its seats for Illinois residents, and many of those students wind up in the Chicago area after graduation.
Dr. Margaret Drewno
is heading to a small animal private practice in her hometown of Naperville. Also returning to the suburbs are
Dr. Brittany Childs
and
Dr. Angela Mitas
(second from left in the photo above), both from Downers Grove.
Dr.
Wendy Karnia,
of La Grange, plans to pursue a small animal internship in Chicagoland.
Dr. Shannon Darcy,
a native of West Bloomfield, Mich., also plans to practice in the Chicago area.
Dr. Michael Dow, from Willowbrook, plans to enter a small and mixed animal practice on the outskirts of suburbia, and Dr. Christine Mallo, from Mokena, will venture further north to become one of four doctors at Hales Corner Veterinary Clinic near Milwaukee, Wis.
Having an Illinois DVM will have a huge impact on my life. Illinois has shaped me and prepared me to enter into the working veterinary world with a sense of pride and accomplishment. I feel ready to start off my career, and I owe my experiences at Illinois for that.

Dr. Kayley Rodriguez, associate veterinarian, Belleville (Ill.) Animal Clinic
North, South, East, and West
Members of the Class of 2016 leaving the Midwest to pursue small animal careers include:
Dr. Brianna Beaudet, from Boca Raton, Fla., who is starting an internship at Canobie Lake Veterinary Hospital in Windham, N.H.
Dr. Eliza Ekins Yanik, recently of Boston, Mass., who is moving to Santa Cruz, Calif., and hopes to specialize in feline internal medicine.
Dr. Ellen Glenn, from Evanston, Ill., who will enter a shelter medicine internship at the San Diego Humane Society.
Dr. Melody Mullin, a lieutenant in the Army Veterinary Corps, who will be stationed in Corpus Christi, Texas, where she will care for military working dogs and border patrol dogs and horses and perform public health services.
Dr. Mark Ryan, also in the Army Veterinary Corps, who will move to Georgia after graduation; he and his wife plan eventually to open a small animal practice in Southern California.
Mixing It Up
Not all members of the Class of 2016 have their sights set on small animal practice. Another segment plans to work in a mixed animal practice, seeing companion and farm animals alike.
Dr. Heather Wright will return to her hometown of Piper City, Ill., to work at Whitman Veterinary Clinic, a mixed animal rural practice. Dr. Ben Blair will work in mixed animal practice in his hometown of Sparta, Ill. Dr. Chelsea Ballinger, of Stewardson, Ill.; Dr. Tess Fiedler, from Janesville, Wis.; Dr. Paige Gunderson, from Leland, Ill.; Dr. Mara Nix, from rural Richland County, Ill.; and Dr. Jessica Nourie, of Danville, Ill., are all entering a mixed animal practice.
Dr. Brigitte Mason
(holding "I'm an Illini" sign at left in the photo above) gained advanced experience as a student working for several leading pork industry businesses to help launch her career as a swine veterinarian.
Dr. Daniele Milazzo
(second from right above) grew up in suburban Addison, Ill., but intends to complete an internship and residency in large animal medicine.
Still others, such as Dr. Erica Morton, of Roscoe, Ill., and Dr. Steven Zary, from Elk Grove Village, Ill., plan to focus their practice on a mix of exotic pets and small animals.
Horse Sense
Dr. Meaghan MacQueen, from Elmhurst, Ill., has owned and shown American Saddlebred horses since she was 10 years old; she will begin an internship at Kendall Road Equine Hospital in Elgin, Ill., starting in July. Dr. Catherine Foreman, of St. Joseph, Ill., will follow the family passion for horses, beginning with a year-long internship with Southern Equine Service in Aiken, S.C. Dr. Liz Odyniec, from Lindenhurst, Ill., will be completing an equine internship at B.W. Furlong and Associates, a large sports medicine practice in New Jersey; she has worked with veterinarians for the Canadian, German, Irish, and U.S. Olympic Equestrian teams. Dr. Beth Byles will enter an equine internship at Mid-Atlantic Equine Medical Center, located in Ringoes, N.J.
Other students with plans for an equine internship include
Dr. Margaret Bojko
, of Oak Lawn, Ill., who has a strong interest in equine reproduction, and
Dr. Marcus Wisniewski
, from Belleville, Wis., who has a special interest in harness racing.
Veterinary Specialization
Dr. Mara Suzann Varvil, from Carbondale, Ill., is entering a residency and PhD program in clinical pathology at Purdue University. Eventually, she would like to be an educator, researcher, and clinical pathologist. Dr. Leslie Frailey, from Crystal Lake, Ill., also plans to pursue a veterinary pathology residency after a few years in practice.
Dr. Natalie Rupp, from Elmhurst, Ill., will begin a small animal rotating internship, with a future goal of working in academia as a boarded surgeon. Dr. Julie Stoka-Hanley would like an academic career after gaining board certification in diagnostic imaging. Dr. James Karnia, from Oak Forest, Ill., also plans to specialize in diagnostic imaging and radiology.
Dr. Mark Byrum, from Decatur, Ill., has been immersed in conducting research in the college's comparative oncology laboratory throughout his four years at Illinois. He has his sights set on becoming a boarded medical oncologist.
Dr. Robert Rush, from Carlinville, Ill., plans to specialize in zoo/wildlife/conservation medicine. Dr. Tessa Fischer, originally from California, is one of many Illinois students who entered the college's five-year joint DVM/master's in public health degree program. She'll complete her master's in public health degree at the University of Illinois at Chicago in the coming year, and plans a career working with zoonotic diseases and preventive medicine.
Wildlife Program Has Impact
For many new graduates, one of the most influential and memorable parts of the Illinois experience was not part of the curriculum at all but a volunteer role. Nearly a third of our students volunteer in the college's Wildlife Medical Clinic, which provides care for more than 1,500 ill or injured wild animals every year.
Dr. Amelia Gould, from Rapids City, Ill., says one of her most powerful learning experiences came from handling critical cases and teaching others about wildlife rehabilitation while she was one of two student managers of the Wildlife Medical Clinic. After completing a small animal rotating internship, she hopes to enter a residency program in zoo medicine.
The most memorable part of my time at Illinois was definitely the Wildlife Medical Clinic, which helped me grow so much when it comes to confidence, technical skills, communication and team building, conflict resolution, and teaching fellow colleagues.

Dr. Kyra Berg, intern, Milwaukee Emergency Center for Animals
Dr. Jenny Kuhn, from New Lennox, Ill., who plans to work in an exotic and small animal practice in the Chicago suburbs, credits her hours volunteering in the Wildlife Medical Clinic as among the most memorable of her studies. "My best moments were working with the resident birds of prey and talking with classrooms about wildlife," she says.
Dr. Malky Spektor will also enter a small animal and exotics practice, thanks in part to her memorable experiences in the Wildlife Medical Clinic. "The lessons I learned here I hope to take with me into my career to make me into the best vet I can be," she says. She spent her professional development period at a wildlife hospital in Israel.