Illinois Students Stand Out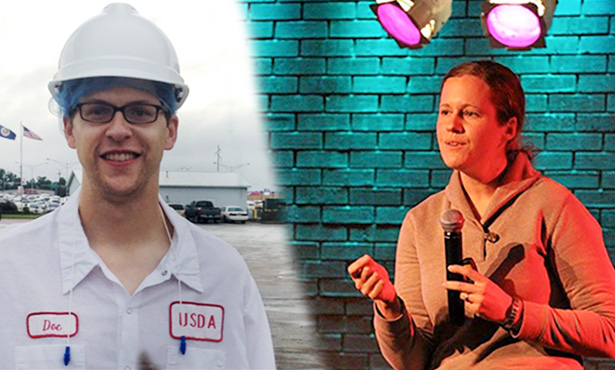 This message appeared in the December 2015-January 2016 issue of the Chicago Veterinary Medical Association Bulletin.
If today's students represent the future of veterinary medicine, I have a great deal of confidence that the future is bright. Here are three reasons why.
Passing Expectations
A dean could hardly hope for a better brag point than this: 99.2 percent pass rate on the North American Veterinary Licensing Examination (NAVLE) for the Illinois Class of 2015. Of the 121 students sitting for boards, 120 passed in academic year 2015. For comparison, the national average is a 95.5 percent pass rate.
Clinical Confidence
The first three classes educated under the new Illinois veterinary curriculum—graduating in 2013, 2014, and 2015—have reported significantly higher levels of confidence in their practice skills at graduation than were seen in the students graduating in the previous five years, as shown by responses to an exit survey. Asked "How confident are you entering your first position in veterinary medicine?" with responses ranging from 1 = "scared" or "not confident at all" to 10 = "extremely confident," senior students from the past three years responded with averages of 7.2, 6.5, and 7.0, compared with an average response of 4.6 from students graduating between 2008 and 20012.
Students Take Center Stage
Matt Holland (shown above left, while interning with the USDA Food Safety & Inspection Service in Worthington, Minn., last summer) and Robin Holland (at right, presenting on Nov. 11 during Research Live!) are two Illinois students who are related only in the sense that they have both appeared in the spotlight recently.
Matt is a member of the Class of 2017 who took office last summer as president-elect of the Student American Veterinary Medical Association. From this national platform, Matt and his fellow leaders are amplifying the concerns of 15,000 SAVMA members, which center on debt and wellness. He is urging the profession to direct resources toward helping current and future students deal with the mental health and financial burdens that are responsible for the growing depression and suicide rates in our profession. I'm proud that Matt is a prominent advocate for the profession and for the well-being of its future members. You can read some of his comments here: vetmed.illinois.edu/about/student-blogs/
Robin is part of our Vet Med Scholars Program (VMSP). She completed her first year of veterinary school, then embarked on a PhD in pathobiology, which she will complete in 2017 before resuming her veterinary studies with the Class of 2020. In November, she took home the People's Choice award in a campus-wide competition called Research Live!, sponsored by the Graduate College and entered by 65 graduate students. Each was allowed two slides and three minutes to deliver an engaging and educational summary of his or her research focus. Robin's talk, "Taking Down the Powerhouse," referenced war theory and Cheetos in explaining how armies of pathogens target the mitochondria of the cell.
Robin says the VMSP is perfectly suited to her career aspirations because it offers the specificity associated with a PhD in conjunction with the sheer volume of information involved in earning a DVM.
"I'll get two very different perspectives. My PhD will be very, very focused on one topic. It's one protein's one function in one organism [Helicobacter pylori], and it's easy to lose sight of the greater impact. Having veterinary medicine in my education ensures a broad perspective. I can connect how organisms, populations, and entire systems affect each other, and that's what I'm going for."
Both Matt and Robin are using their educations and their vantage points to call attention to issues that will advance the veterinary profession.
State Budget Cramps Students
The good news is that the college was on track to renovate the two large lecture halls in the Basic Sciences Building over the summer of 2015 to accommodate an increased class size of 130 veterinary students. The bad news is that all construction activity halted on July 1, when the state entered FY16 with no budget in place, leaving 240 students in our first- and second-year classes with nowhere to sit during 20+ hours of lectures each week.
College leadership explored all options and ultimately made AV improvements to the microbiology and anatomy laboratories in the basic sciences building so that entire classes could receive lectures in those spaces. While far from ideal learning circumstances, students and faculty have made do with the best option available.
I welcome your questions and comments and invite your continued support of the outstanding students at Illinois through your mentorship, employment, and scholarship contributions.
—Peter Constable