Illinois Faculty: Stubbornly Shaping the Future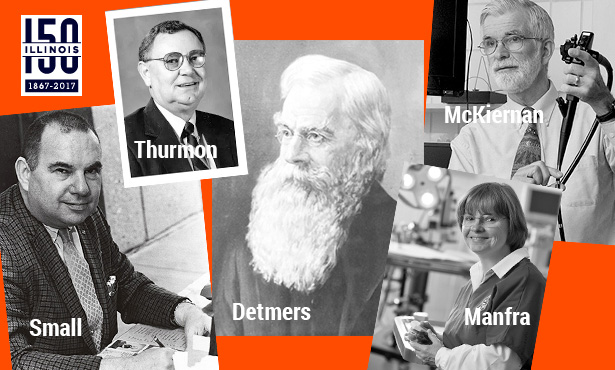 This message will appear in the summer 2017 issue of the Illinois State Veterinary Medical Association Epitome.
Illinois leaders are steadfast, tenacious, and tough
Dr. John C. Thurmon, a member of the college faculty from 1962 to 1998, passed away in March at the age of 87. His daughter, Nancy Schmitt, in recounting her father's impactful career, noted that in 1971 he became chair of the ad hoc committee seeking to establish a veterinary specialty college for anesthesiologists.
"The committee worked tirelessly," she wrote, "mostly during their free time, overcoming significant resistance from well-established surgery and internal medicine veterinary specialty organizations, eventually becoming known as 'the stubborn seven' because of their persistence."
The Good Side of 'Stubborn'
Today we revere Dr. Thurmon, who served as the first president of the American College of Veterinary Anesthesiologists after it was recognized by AVMA in 1975, for his many contributions to our profession. But on his way to achieving this place of honor, he was considered "stubborn."
Though it also has some negative connotations, the word "stubborn" is synonymous with resolute, steadfast, tenacious, and tough. These qualities are required when building something that did not previously exist, as Dr. Thurmon and his colleagues did. These traits sustain anyone taking a leadership role.
As we celebrate the sesquicentennial of the University of Illinois, I'd like to highlight the significant legacy of "stubborn" builders and leaders within your College of Veterinary Medicine.
Legendary Builders and Leaders
First, Dr. Erwin Small, known for his tough Marine persona, was a remarkable builder and leader. Here at Illinois, we may associate Dr. Small so strongly with his role in forging the identity of our college that we forget he was an international leader in the profession.
Dr. Small, a 1955 graduate of our college, was a charter diplomate of the American College of Veterinary Internal Medicine (ACVIM) and was also elected as one of the original 11 board members of that organization in 1972. A decade later, he was one of five veterinarians on the organizing committee for the American College of Veterinary Dermatology (a specialty previously represented as a group within ACVIM). He also served as president of the dermatology college, and of many other professional organizations.
While Dr. Brendan McKiernan was an Illinois faculty member, 1974 to 1998, he founded and served as first president of the Veterinary Comparative Respiratory Society. He returned to Illinois in 2011 as director of the Veterinary Teaching Hospital, and despite "retiring" in 2015, he continues to see small animal respiratory patients, especially brachycephalic pets, in Urbana.
Dr. Sandra Manfra Marretta, who taught at Illinois from 1990 to 2013, was one of eight veterinarians on the organizing committee of the American Veterinary Dental College in 1988. In 2010 she resolutely served as president of that organization.
And Many, Many More
Many Illinois faculty—some of whom are also Illinois alumni—have held the top spot in and helped shape the future of a veterinary specialty organization:
Anne Barger (IL DVM '96), American College of Veterinary Pathologists
Karen Campbell, American College of Veterinary Dermatology
Dennis French, American Board of Veterinary Practitioners
Laura Garrett (IL DVM '91), Veterinary Cancer Society
Wanda Haschek, Society of Toxicologic Pathology and Society of Toxicology's Comparative and Veterinary Specialty Section
Lloyd Helper (IL DVM '55), American College of Veterinary Ophthalmology
Ann Johnson, American College of Veterinary Surgeons
The First Illinois Veterinary Faculty Member
"Shaping the Future Since 1867" is the theme of the 150th celebration on campus. While our college has not been around that long, there have been veterinary faculty members, veterinary courses, and veterinary care for animals here since at least 1870.
In the 1871 annual report of the Board of Trustees of the Illinois Industrial University (as our university was originally called), Dr. Heinrich J. Detmers is identified as having conducted "with great success, a free veterinary infirmary, to give his class, numbering 26 students, opportunity to witness and assist in the treatment of sick animals."
Dr. Detmers turned out to be quite a tenacious builder. He taught not only at Illinois, but also at Iowa, Missouri, Kansas State, and Ohio State. The latter two schools claim him as a founder.
The founding of our college, which was authorized by the General Assembly in 1919 but not funded to enroll students until 1948, required ongoing stubbornness on the part of the agricultural and veterinary community in the state—but that is another story.
As dean, I take a considerable interest in the history of our college because it guides us in creating our future. Our strategic plan includes the vision to be a pre-eminent public college of veterinary medicine.
We will face challenges as we pursue this vision, and I am unshakably, relentlessly determined that we will overcome those challenges. It's inevitable given the long line of stubborn builders and leaders who have brought us to this point.
—Dean Peter Constable