Illinois receives Grand Challenges Explorations Grants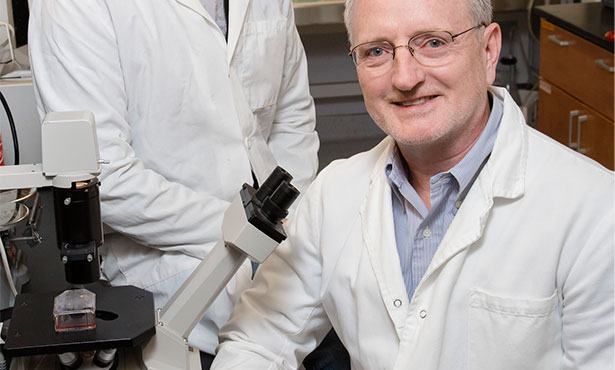 The University of Illinois is a Grand Challenges Explorations winner, an initiative funded by the Bill & Melinda Gates Foundation. Daniel L. Rock, a professor of pathobiology, and Mark S. Kuhlenschmidt, a professor and the interim head of pathobiology, will pursue innovative global health and development research projects.
Grand Challenges Explorations funds people worldwide to explore ideas that can solve persistent global health and development challenges. The projects Drs. Rock and Kuhlenschmidt are pursuing are two of more than 80 Grand Challenges Explorations Round 11 grants announced by the foundation.
Dr. Rock's project focuses on the development of a single one-dose vaccine to prevent sheep pox, goat pox, peste des petits ruminants (a disease afflicting goats and sheep) and Rift valley fever (a livestock disease that can be passed to humans) for an extended period of time. This novel approach would provide long-term disease control for the animal population with a single vaccination.
Farmers must currently administer single vaccines for each disease every year, a cost that Dr. Rock says is unaffordable for many in developing nations.
"We've made tremendous strides in the fields of vaccinology, molecular virology and immunology, and I think this is a good opportunity to actually apply this knowledge to solve pressing disease problems," Dr. Rock said. "These vaccines will protect animals whose owners cannot afford conventional vaccines yet whose lives depend upon their animals' survival, health and productivity."
Dr. Rock will work on the vaccine project with U. of I. department of pathobiology postdoctoral researcher Diego G. Diel, University of Nebraska at Lincoln veterinary and biomedical sciences professor Gustavo Delhon, University of Connecticut pathobiology and veterinary science research associate Edan Tulman and Universidade Federal de Santa Maria professor of preventative veterinary medicine Eduardo Flores.
Dr. Kuhlenschmidt's project focuses on the development of a system to better study a microscopic parasite called Cryptosporidium, a protozoan transmitted in contaminated water, causing a diarrheal disease in humans. According to the World Health Organization, diarrheal disease is the second-leading killer of children younger than 5 years old, and Dr. Kuhlenschmidt said, "about 50 percent of that is due to Cryptosporidium."
Without a way to grow the protozoan in the lab, it is difficult to study Cryptosporidium, because "if you can't culture it, every time you want to study its pathogenesis, you have to go back into an animal – and that is laborious and expensive," Dr. Kuhlenschmidt said.
"The real challenge is making a system useful for drug screening," Dr. Kuhlenschmidt said. "If we can make a continuous culture that gives us the ability to look at the entire life cycle of Cryptosporidium, we'll see rapid progress in making a vaccine or therapy."
Dr. Kuhlenschmidt will work on this project with two researchers from Washington University in St. Louis: professor of molecular microbiology L. David Sibley and professor of pathology and immunology Thaddeus Stappenbeck.
Grand Challenges Explorations is a $100 million initiative.  Begun in 2008, it has awarded grants to more than 850 people in more than 50 countries.
Written by Chelsey B Coombs, Campus News Bureau Intern