Be Prepared: Illinois Leads Veterinary Emergency Response Training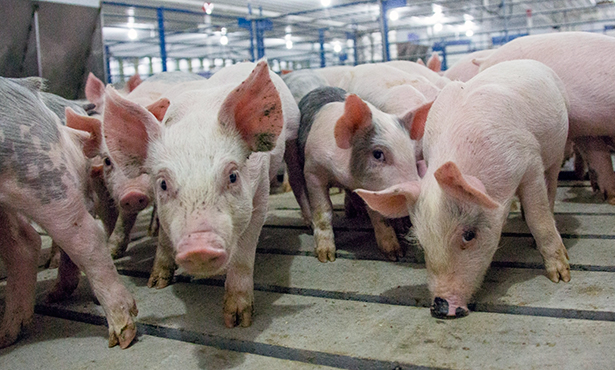 On January 28, 2016, a semi-trailer hauling 156 hogs crashed on I-74 east of Urbana. The University of Illinois Veterinary Teaching Hospital was called to the scene to care for the injured hogs.
Dr. Eleonora Po, who is completing the third year of a residency in food animal medicine and surgery, was one of the veterinarians from the college to respond. Dr. Po had received training for emergency scenarios but not for this specific situation.
"We got the call from the local police to go and help with the accident," says Dr. Po. "Vets are usually called out to these accidents to provide care for the animals and make decisions on the ones that are not doing well. We make sure the animals are treated well and the ones that are suffering get humanely euthanized."
According to Dr. Po, emergency situations do not happen often, but large animal veterinarians and other emergency responders should be prepared to handle any crisis scenario involving animals.
Scott Hexum, anatomy preparator in the college's Department of Comparative Biosciences, is also an emergency medical technician (EMT). He has been involved with teaching first responders in local fire departments and law enforcement about possible emergency scenarios involving horses, cows, pigs, and sheep.
"There are huge financial and animal welfare incentives to be prepared in emergency situations to ensure that the scene is safe and the welfare of the animals is cared for," says Hexum.
In emergencies, veterinarians' main priority is the animals' welfare. The job of the firefighters and police is to secure the scene and ensure that the veterinarians have what they need.
Vehicle accidents, like the I-74 incident, are not the only situations where large animal veterinarians and emergency responders need to be trained; all hazardous situations are a concern.
Dr. Yvette Johnson-Walker, clinical instructor in veterinary clinical medicine, contributes to emergency preparedness efforts by bringing vital emergency training to accredited animal exhibitor institutions. The effort is called Zoo Ready and is funded by the U.S. Department of Agriculture and supported by the Association of Zoos and Aquariums. The program has expanded since its start in 2012, providing training to staff from zoos and aquariums in 26 states and Washington, D.C. Zoos and aquariums are among the most vulnerable facilities affected in emergencies, so Dr. Johnson-Walker helps prepare for nearly anything that can threaten animals, including floods, fires, power outages, and even disease outbreaks. This year participants will meet in Urbana to hold a communications workshop focused on the roles of local, state, federal, and zoological industry personnel faced with an outbreak of a foreign animal disease.
Since there is a need for emergency preparedness in the veterinary and agriculture industries, Dr. Johnson-Walker's team has also offered training programs to college faculty, staff, students, and members of the local companion animal rescue community. These efforts were funded by a gift from a non-profit animal rescue organization, Noah's Wish.
"In communities with livestock, it is important to have people who are trained in emergency response and people who have large animal-handling skills," says Dr. Johnson-Walker.
The training program she leads focuses on enhancing the structural response collaboration among the multiple agencies involved. A main skill of the program is the Incident Command System (ICS). ICS was originally developed by the national fire service. ICS has long been used by public safety, law enforcement, and public health agencies involved in emergency response. It is designed to organize an efficient response with a large number of people in order to work collaboratively.
Dr. Johnson-Walker's training program is held annually because a lot changes in emergency response procedures as new control measures evolve and advance. But one thing that always remains a priority is communication.
"One thing we have really learned is that communication is important," says Dr. Johnson-Walker. "Figuring out ways to reach large numbers of people with accurate information has been a challenge. No matter how much we practice, the important part is reaching out to all the sectors and getting that communication going."
Dr. Po can attest to the importance of effective communication in emergency situations.
"The majority of the people who will show up at an emergency site have never met before," says Dr. Po. "However, if you define roles and duties straight away, the rescue project will go smoothly and nobody will get injured, including the animals."
—Nora McKay