The 'I' in Illinois Represents Innovation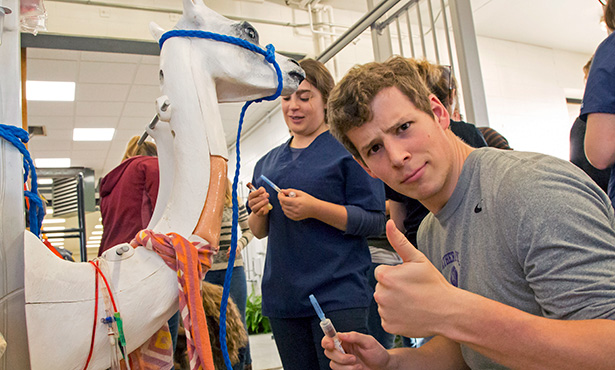 This message will appear in the August 2018 issue of the Chicago Veterinary Medical Association Bulletin.
Diverse Collaboration Yields Innovation
When you've got a groundbreaking veterinary curriculum and you want to make it even better, what is the next step?
For Illinois, one answer is tapping into a type of expertise that we currently lack.
As the fall semester starts, we welcome Dr. Christopher Seals to the newly created position of assistant professor of veterinary curriculum and assessment to advise faculty on systematically improving our innovative curriculum.
"Our faculty expertise lies in clinical or research specialties. Very few of us have had any education on how to educate students," points out Dr. Jonathan Foreman, associate dean for academic and student affairs.
An Educationalist
Dr. Seals has bachelor's and master's degrees from the University of Louisville and completed a PhD in educational psychology and educational technology from Michigan State University in June.
"Chris will advise us as faculty, especially new faculty, how to do a better job delivering the curriculum," says Dr. Foreman. "For example, he'll review learning objectives and test questions in light of his formal training. He'll also play a big role in preparing for the college's next accreditation site visit from the AVMA Council on education, which will take place in 2020."
Earlier this year the Association of American Veterinary Medical Colleges unveiled documents developed over the past three years to establish a common framework for "competency-based veterinary education" in nine domains, such as clinical reasoning and decision-making, communication, and financial and practice management. They also identified eight "entrustable professional activities," including "develop a diagnostic plan and interpret results" and "formulate recommendations for preventive healthcare."
Much of this work was built upon curricular reform that has taken place in human medical education. Illinois had already drawn on the same inspiration for the veterinary curriculum we implemented in 2009, which features early clinical exposure, extensive use of clinical skills models, objective clinical skills assessment, and an approach to basic and applied material that is integrated across body systems and species.
Illinois innovation is continuing as the world's first engineering-based human medical school is launched on campus this semester. Our college is both contributing to and learning from this new program that unites disparate areas of expertise to achieve advances neither could reach alone.
An Engineer … Architect, Computer Scientist, …
The idea of uniting divergent disciplines to tackle a societal problem sparked the imagination of two Illinois DVMs, Dr. Aaron Smiley ('07) and Dr. Brooke (Nitzkin) Fowler ('08), who are behind the first Veterinary Hackathon in conjunction with Fall Conference. A hackathon, in this case, is not about software development but about problem-solving. With guidance from veterinary behaviorist Dr. Kelly Ballantyne, our faculty member based in Chicago, the hackathon happening here on October 10 will bring together students and professionals from many fields to seek solutions to feline house soiling. Sponsors have ponied up $2,500 in prize money, so you may want to join in!
An Illinois Veterinary Graduate
Also on October 10, the college will be hosting a job fair. The pre-Fall Conference workshops that Wednesday afternoon include one with the theme "Becoming an Employer of Choice," led by Dr. Larry Firkins. Then current students—and any veterinary job seekers—will have a chance to mingle with prospective employers in open-house style from 5 to 7:30 pm. There are limited spaces for employers, so visit vetmed.illinois.edu/job-fair/ soon for details on securing one.
What's the bottom line for Chicago-area practitioners and their clients? Practice-ready graduates.
Illinois has already earned a reputation for the competence of its veterinary graduates. Not only are our graduates in high demand by employers, but they also self-report a higher level of confidence, a metric Dr. Foreman points to with pride.
"The self-reported confidence level of graduates in the first four years of the new curriculum has almost doubled from that of earlier graduating classes," he notes. "That has to do with the skills-based part of the curriculum."
If you have any feedback on the Illinois curriculum or other college activities, feel free to contact me at dean @ vetmed.illinois.edu.