Help Us Tell the Illinois Vet Med Story: #ScienceWithHeart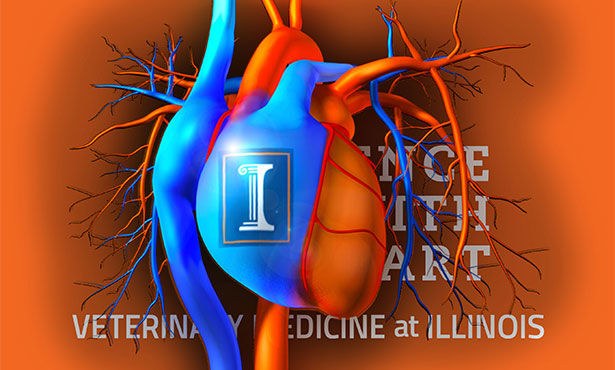 This message will appear in the fall 2017 issue of the Illinois State Veterinary Medical Association Epitome.
Three October Events Showcase Vet Med
October is crammed with opportunities to tout the impact of your profession and your veterinary college. We've adopted the phrase "Science with Heart" to illustrate the rigor and the caring that characterizes veterinary medicine, and we encourage you to help us spread the word.
On Sunday, October 1, we hold our annual Open House. This event showcases the DVM program and is a great way to introduce aspiring veterinarians to the many facets of our profession. Please look for an Open House poster coming in the mail to Illinois clinics and help us publicize the event by displaying the poster and inviting interested individuals.
Two weeks later, on October 13, the Urbana campus kicks off the public phase of an ambitious campaign. We'll be hosting donors in our newly acquired building across Hazelwood Drive from our hospital. This building will house our Wildlife Medical Clinic, shelter medicine program, and student-led primary care practices. Their relocation frees space in the hospital to renovate and expand our surgical facilities and more. These changes will allow our clinical services to deliver #ScienceWithHeart to more animals and more Illinois citizens.
On the evening of October 13, as many as 3,000 donors, students, and others will assemble in the State Farm Center for a fun and exciting campaign kickoff event. If you are interested in how you can participate, please contact Heather Clay, assistant dean for advancement, at 217-333-2761.
October closes with Homecoming Week and, for all of you, our annual Fall Conference for Veterinarians, October 26 and 27. Last year's Fall Conference was among the best-attended ever, and this year we intend to make the conference even better. We will continue our celebration of the campus sesquicentennial, deliver practice-relevant continuing education, and provide lots of opportunities for you to connect with classmates, faculty, and friends. The Homecoming football game pits the Illini against Wisconsin.
At all of these activities, we will talk about the ways that your Illinois veterinary college engages in #ScienceWithHeart. We'll even have T-shirts for sale at Fall Conference so you can carry that message back to your practice.
We introduced this phrase on T-shirts at the AVMA meeting in Indianapolis, and followed up by mailing all Illinois veterinarians our annual referral directory bearing the same image as the shirt: an anatomical dog's heart that comes alive and beats Illini orange and blue when viewed through a device with a free app, Illinois 3DVM.
#ScienceWithHeart encapsulates the Illinois Vet Med story. It means we are both caring and disciplined. It means we work to improve life for animals, people, and the planet by pursuing data-driven actions.
I hope each of you will help us tell this story—the story of our profession and our college—to the many audiences you reach. You can help us by wearing your T-shirt, upholding high standards of practice and compassion, and connecting us with your clients who have an interest in supporting the animal patients of today and the veterinarians of tomorrow.
—Dean Peter Constable