Missing Kestrel Returns to Wildlife Clinic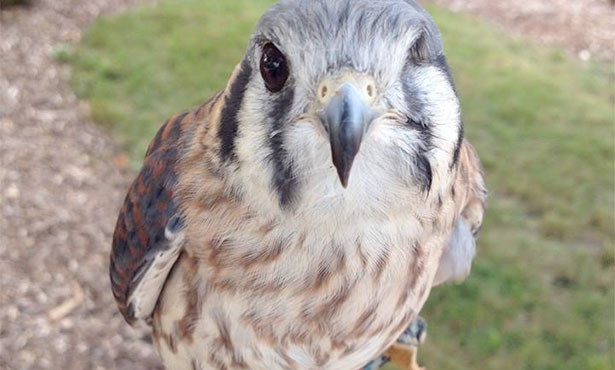 Breaking news at 9:44 am, September 29:
Thistle, the American kestrel that flew away from her handler at the Wildlife Medical Clinic on Wednesday, September 23, was reported in a Colony West condominium about two miles west of the College of Veterinary Medicine mid morning today. Drs. Julia Whittington and Nichole Rosenhagen arrived quickly and were able to coax Thistle to the ground for a meal. Thistle is now recovering from her six-day adventure. Clinic leaders say Thistle appears to be in good health despite having lost about 12 percent of her original body weight of 130 grams (about four ounces).
Protocols for taking Thistle outdoors to the flight cages have already been revised to ensure that the jesses attached to her ankle bracelets remain secured even if the handler's grip relaxes.
The Wildlife Medical Clinic and everyone at the College of Veterinary Medicine is rejoicing in Thistle's safe return. We are so grateful for the community's assistance in helping us locate her. An estimated 100 calls, posts and texts came in with possible sightings of Thistle while she was missing.
---
Update at 4 pm, September 24: A mail carrier working in the Trails at Brittany neighborhood in west Champaign reported seeing a bird that matched Thistle's description around 2 pm. Wildlife clinic volunteers arrived on the scene about 20 minutes after getting the call and searched for an hour without seeing the bird.
---
The University of Illinois Wildlife Medical Clinic is asking for help finding an American kestrel, a resident bird of prey at the clinic, that escaped its handler on the morning of September 23. The bird, dubbed Thistle, is fully flighted, but is missing its left eye and thus is not able to survive in the wild.
The bird was last seen flying west from the veterinary complex at the corner of Lincoln Avenue and Hazelwood Drive in Urbana, Illinois. She is still wearing leather bracelets, and leather straps called jesses are hanging from the bracelets, presenting the possibility of her becoming entangled. Before she flew out of sight, she was noted to be flying from tree to tree, so it is thought she may be more likely to be found perched in a tree than to be seen on the ground.
She is about seven inches high, and is typically vocal, making a distinctive, shrill "ki ki ki" sound. She is accustomed to people, but may bite and use talons if approached.
Anyone who spots a bird meeting this description is asked to call the Small Animal Clinic at 217-333-5300 and let the attendant know you wish to speak with Dr. Julia Whittington, director of the Wildlife Medical Clinic.
Thistle arrived at the Wildlife Medical Clinic in May 2012 as a juvenile with an eye injury. Because her injury prevented her from being an effective hunter, the clinic received a permit from the Illinois Department of Natural Resources to care for her as an education animal. At the time of her escape, she was being taken for her daily enrichment period in an outdoor flight cage just north of the Veterinary Teaching Hospital.