What's Been Happening to Shape Our Future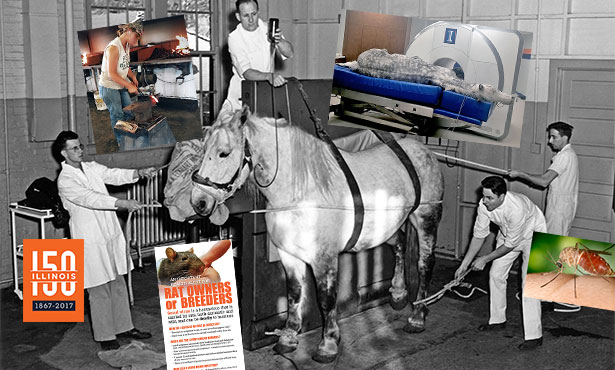 This message will appear in the April 2017 issue of the Illinois State Veterinary Medical Association Epitome.
What's Been Happening?
A lot has been happening at your College of Veterinary Medicine this year!
Horses
In February, our college welcomed both a farrier practice and a horseshoeing school. These additions will advance our strategic goals to provide excellent service for animal owners and transformative learning experiences for students.
"Middlefork Forge at IllinoisTM" opened February 17, offering therapeutic shoeing in our Large Animal Clinic every Friday and servicing horses in west-central Indiana and east-central Illinois the rest of the week. Steve Sermersheim, an internationally recognized farrier, leads this service, which complements the exceptional medical and surgical lameness services already available to equine patients at our hospital. (In January our new 3T MRI imaged its first equine patient!)
Our Office of Public Engagement now oversees the Midwest Horseshoeing School, located in Divernon, Ill. Diego Almeida, who formerly co-owned the school with Sermersheim, continues to manage instruction for the school.
Our alliance with the horseshoeing school is anticipated to greatly expand fourth-year veterinary students' exposure to wellness examinations and routine horse health care. Around 5,600 well horses are shod each year at the school, and many of these animals are not receiving regular veterinary care elsewhere.
One Health
This year also kicked off with a flurry of activity in our Center for One Health Illinois. About seven faculty members and one fourth-year student played a role in the CDC/Illinois Department of Public Health investigations into cases of Seoul virus spread to people via pet rats. The college worked with these agencies and the ISVMA to find solutions for veterinarians and rat owners/breeders impacted by the virus.
Our college is also part of a five-year, $10 million federal grant to establish the Upper Midwestern Center of Excellence in Vector Borne Diseases. College and campus faculty, led by Dr. Marilyn O'Hara Ruiz, will receive $1.8 million of center funding to develop forecasting models and statistical spatial risk maps of regionally important mosquitoes and ticks and the diseases that they cause.
History
The University of Illinois is celebrating the 150th anniversary of its founding. Under the banner of "Shaping the Future Since 1867," Illinois will be hosting sesquicentennial activities from early 2017 through May 2018. Visit the website 150.illinois.edu for a list of planned activities or to upload your own photos, video, audio, and stories about your Illinois experiences and memories.
Our college will participate in the 150th celebration with an exhibit hall booth and a special alumni reception event at the AVMA conference in Indianapolis. I hope to see many of you there!
We'll also add 150th flair to this year's Fall Conference, which is slated for October 26 and 27 to coincide with Homecoming Weekend. Book your rooms early and plan to stay for the game against Wisconsin on Saturday. This is sure to be a "happening" conference.
—Dean Peter Constable