Good News from Illinois about Students and Alumni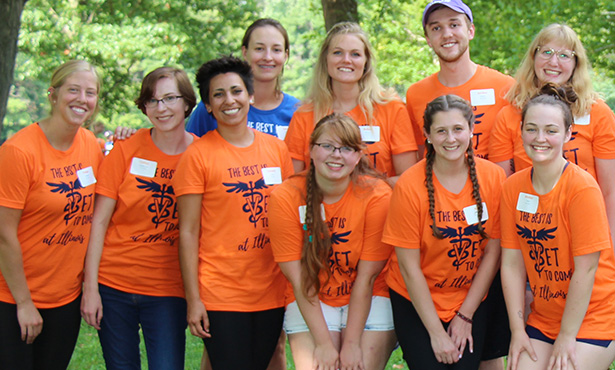 This message will appear in the October 2018 issue of the Chicago Veterinary Medical Association Bulletin.
Top-Notch Students, Outstanding Alumni
We kicked off our fall semester here in Urbana with some excellent updates from our associate dean of student affairs, Dr. Jonathan Foreman. He shared at our first faculty meeting that "no students were left behind" at the end of the previous spring semester; it was the first time in his 11-year history in that role that all students had advanced to the next year of study with their class.
More good news: the NAVLE pass rate for our 2018 graduates was 98 percent—higher than the national average of 95 percent. He also gave an update on our current first-years, the Class of 2022. (A few of them are shown above, in the orange shirts distributed at the Illinois Veterinary Leadership Experience in August.)
We welcome 130 students to the Class of 2022!
69 Illinois residents; 61 non-residents (including 2 international students)
113 women; 17 men
38 students who are the first in their family to attend college
20 students self-reporting racial/ethnic diversity
Thanks to everyone in CVMA who helps out by mentoring, writing references for, and serving as admissions interviewers for prospective students. You play an important role in delivering outstanding future colleagues to our door, and we are delivering an unmatched veterinary education so they will become assets to your practices.
We also thank CVMA for again sponsoring our annual student-run Open House, this year on October 7. It means so much to students to know that your organization values them and their outreach activities.
Annual Alumni Awards
I'm pleased to announce that three Illinois alums will be recognized in October with awards from the college and its alumni association.
Dr. Caitlin DeWilde and Dr. Aaron Lower, who both completed DVMs in 2009, are the recipients of the Outstanding Young Alumni Award, which recognizes veterinary graduates who have excelled early in their field and who demonstrate creativity and entrepreneurship in veterinary medicine.
Dr. DeWilde built her own consulting business, called TheSocialDVM, to help veterinary clients tap into the tremendous potential of social media. She also practices at Brentwood Animal Hospital near St. Louis.
Dr. Lower has demonstrated outstanding career growth in the swine industry. He is a partner in Carthage Veterinary Services in western Illinois and consults internationally in China, Canada, Denmark, and other countries.
Dr. Anne Barger was selected to receive the Dr. Erwin Small Distinguished Alumni Award, which recognizes graduates who have excelled in their field and made significant contributions to the profession and/or the college.
Dr. Barger earned her bachelor's, master's, and veterinary degrees at the University of Illinois and joined the college faculty in 2002. She recently received tenure as a full clinical professor, and she leads the clinical pathology service in the Veterinary Diagnostic Laboratory. Dr. Barger has shown leadership in her specialty nationally and internationally through service, scholarship, and speaking engagements. She is a favorite with Illinois veterinary students, with multiple teaching awards and requests for her presence at the college's graduation and white coat ceremonies.