Noteworthy Numbers for Global Health Warriors Like You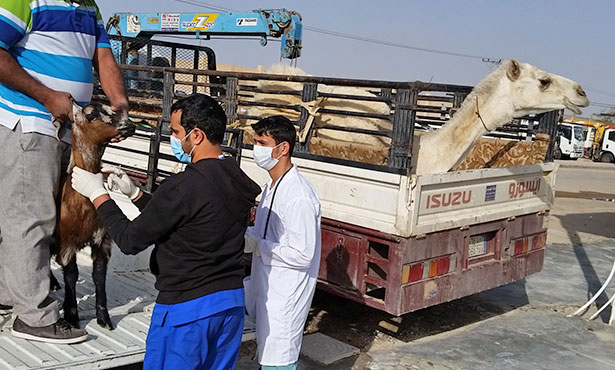 This message appeared in the August 2016 issue of the Chicago Veterinary Medical Association Bulletin.
Monkeypox, Canine Flu, and More Visit Chicago

Are you a global health warrior? If you spend your days taking care of Chicagoland dogs and cats, "global health warrior" may not be integral to your self-image. And yet, because you are a veterinarian, the label applies.
As an Australian native who practiced veterinary medicine in Australia and England before settling in the U.S. in the 1980s, I have seen a fair bit of the world and love to travel. Having previously visited Turkey, Jordan, and Egypt for work-related events, I was pleased to be invited by the Kingdom of Saudi Arabia's academic accreditation commission to review Qassim University's College of Agriculture and Veterinary Medicine.
Camels, Cows, and MERS in Saudi Arabia
In April 2016 (specifically, 28/4/1437 to 2/5/1437, according to the Islamic calendar), I and two others on the review panel—a veterinary department head and former dean from Denmark and England, respectively—completed a five-day visit.
Saudi Arabia is making a substantial investment in higher education. Qassim University was established in 2004 through the merger of the branch campuses of two other Saudi universities, and it currently enrolls 70,000 students. Located in the geographic and agricultural center of the country, Qassim is home to the newer of the two Saudi veterinary programs, and it graduates about 35 veterinary students a year.
Their soon-to-be-opened veterinary teaching hospital was very impressive, and their caseload quite unlike that at our college. For one thing, they see thousands of camels a year. You may be surprised to learn that Saudi Arabia is home to the world's largest vertically integrated dairy company, Almarai, which produces more than one billion liters (about 264 million gallons) of milk a year at megadairies in the desert.
Saudi Arabia is also home to the Middle East respiratory syndrome (MERS)—or at least it is where the virus was first identified, in 2012. Since then, there have been 1,782 laboratory-confirmed cases of MERS and 634 deaths in 27 countries, according to the World Health Organization (WHO). Saudi Arabia had active cases during my April visit.
The WHO notes that camels are likely to be a major reservoir host for the virus and a source of MERS infection in humans, although the exact role of camels in transmission is not known.
Veterinarians Are Global Health Warriors
Which brings me back to the global health warrior idea. Within 24 hours after standing next to camels at the Qassim veterinary teaching hospital, I was back in the U.S. Could I have carried something more back with me than just the knowledge I gained about Saudi veterinary programs?
Veterinarians the world over stand ready to address the threat of zoonotic and foreign animal diseases made imminent by international travel and trade. To prove the point that each of you is a global health warrior, I need only reference the new strain of canine influenza virus that arrived in your city from South Korea last year. Or the human monkeypox outbreak of 2003 in the midwest, which arrived in Chicago by way of pet prairie dogs that had been housed with an infected Gambian rat at a pet store.
Our college is here to assist you and others with training and services needed to battle disease and promote animal and public health on a local or global scale.
How Our College Is Helping
In June Dr. Yvette Johnson-Walker led a "Zoo Ready" conference to help personnel from accredited animal exhibitor institutions develop coordinated response plans for infectious disease and weather-related events. She has revised and delivered this program many times since first offering it in 2012, and has delivered similar emergency preparedness training programs to the veterinary and companion animal rescue communities.
"We are at the beginning of a major paradigm shift in how the U.S. plans to respond to the next large outbreak of a foreign animal disease (FAD)," says Dr. Johnson-Walker. "The high costs and unintended consequences of recent outbreaks have highlighted the need to move away from large-scale culling as the only means of FAD mitigation."
Our Office of Public Engagement is also preparing to "go global" with its EVP program via an online platform to improve food animal production practices worldwide. Look for details in coming months at evp.illinois.edu.
Dr. Igor Canisso, on the other hand, brings the global spotlight to Illinois: he is hosting the Seventh International Symposium on Stallion Reproduction here at the end of August.
If I can shed further light on these numerous topics, please send me a note at dean@vetmed.illinois.edu.
—Dean Peter Constable