Get to Know Linda J. Brown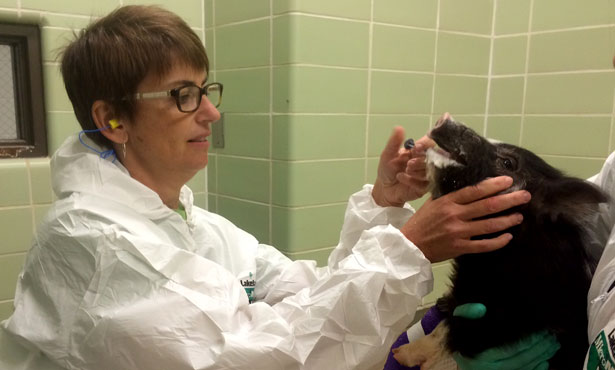 Linda J. Brown, veterinary technician II, has worked at the College of Veterinary Medicine for 26 years.
Using 10 words or less, describe what your role at the college is.
Promote animal welfare in agricultural species used in production, teaching. and research. (My best attempt to keep it to 10 words.)
Have you held other titles or responsibilities at the college?
Yes, I have served as a veterinary technician in a few other roles. I began at the College of Veterinary Medicine in 1986 working for the Animal Poison Control Center (when it was still housed at the VMBSB). From there, I transferred to a position within the Diagnostic Laboratory on the necropsy floor and remained there until 1995. From 1997 to 2004, I worked in a research lab performing tissue culture and molecular biology. I remained in that position until 2004 when the research lab relocated to Georgia. In 2004, I accepted a position with the newly established program Agricultural Animal Care and Use Program (AACUP). As the veterinary technician, my role is tied to the regulatory oversight of all agricultural animals used on campus. Our office works closely with the College of Veterinary Medicine and Department of Animal Sciences in meeting the regulatory requirements set forth by the funding agencies, USDA, IACUC, etc. AACUP also works with PIs in ways that help them carry out successful research—whether it's offering training in animal handling, technical skills, writing protocols, or one of many other areas for which AACUP serves as a resource.
What is your favorite part of your job?
I absolutely love working with agricultural species and with research groups that are working towards improving the lives of animals and humans.
Complete this sentence: My most memorable day at work was….
The very first day I started with AACUP. The program was so new that the office was completely void of furniture and a computer. However, realizing the possibilities tied to being part of a new campus program was extremely exciting!
What would your coworkers be surprised to learn about your life outside of work?
I enjoy wine tasting, jogging, reading non-fiction, the performing arts, and spending time with my two grandchildren.
Do you have any pets?
Due to the amount of time I'm away from home, I've opted not to have any pets at home. I get my "pet fix" by taking care of my daughter's cockapoo at times.