French Student Immersed in Fish Behavior over Summer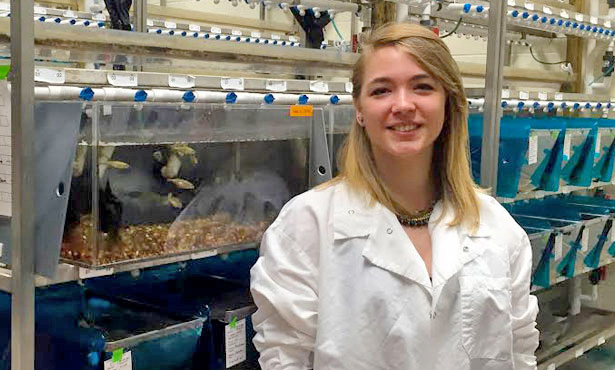 Marion Dellinger traveled 4,130 miles from Nantes, France, to dedicate her summer to studying a fish only two inches long.
A student at the National Veterinary School of Nantes, Dellinger was one of three French veterinary students selected for a competitive scholarship from Merial, a veterinary pharmaceutical company, to participate in summer research programs in the United States. Dellinger, the only French student participating in the University of Illinois program, wanted to pursue her fascination with wildlife evolution and behaviors within environments.
The Bell Lab seemed like the perfect fit. Professor Alison Bell of the Department of Animal Biology studies behaviors of the threespined stickleback fish. This species, which has been around for several thousand years, is a useful model for evolutionary behavioral studies. Recently it was found that the male stickleback fish can sense whether a female has been exposed to a predator. Dellinger's assigned project involves research into exactly how that is possible.
She spends her days in a laboratory filled with tanks of stickleback fish, working alongside Jennifer Hellmann, a postdoctoral researcher. Male and female sticklebacks are separated; females are placed in a small tank directly attached to the male tank, so males can see the females but not smell them. At the same time, water from a tank of females that have either been exposed to a predator, or have not, is poured into the tank of males, and observations are meticulously recorded.
Dellinger hypothesizes that the males use olfactory cues, visual cues, or both at the same time to detect females' predator exposure, and is working toward finding the answer.
Through all of this experience, Dellinger hopes to further her career in wildlife research. Although she is attending a prestigious veterinary school in France, her passion lies in ecology and evolutionary sciences.
"I chose the Vet School of Nantes because of its wildlife rescue center, but I don't really want to be a doctor later on: I want to work in research, and that's why I wanted to participate in this research program," Dellinger said. "I'm really interested in the way animals interact with their environment, so I like marine biology, evolutionary sciences, ecology, and things like that. This project dealing with behavior and evolution was kind of made for me."
On Wednesday, July 27, the students in the Summer Research Training Program will share poster presentations of their work. The session will be held in the Veterinary Medicine Basic Sciences Building from 11:30 a.m. to 1 p.m.
—Emily Luce