Flaws' BPA Research Inspires YouTube Video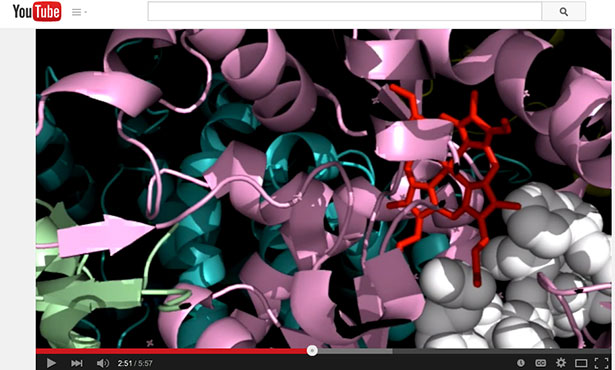 A group of undergraduate students at the University of Pennsylvania recently created a video influenced by Dr. Jodi Flaws, professor of comparative biosciences at Illinois. Dr. Flaws specializes in research involving factors such as toxicants that can affect the female reproductive system.
One of Dr. Flaws' recent research projects looked at how bisphenol A (BPA), an industrial chemical found in plastic food packaging, downregulated components of the steroidogenesis pathway in female mouse reproductive follicles. This study interested the Pennsylvania students, enticing them to use the topic for a project in their course, "Principles of Biological Chemistry."
"We found this work compelling and chose to use it as source material for a video project on how BPA may impair reproductive health by disrupting ovarian steroidogenesis," said Susan Zhang, one of the students.
The six-minute video, "BPA Disrupts Ovarian Steroidogenesis," goes into detail about the nature of BPA, how it is found in many everyday items, and how it might disrupt the steroidogenesis pathway. It includes 3D modeling of key enzymes of the pathway, and comprehensive descriptions about cell signaling pathways involved.
After completing the project for their chemistry course, the students reached out to Dr. Flaws to let her know her work inspired them.
"We all came away from the project learning a lot, and found Dr. Flaws' papers incredibly interesting and a motivator for us to continue to pursue future opportunities to learn more about the field of toxicological research," Zhang said.
"I was very honored that the students decided to make a video based on our research. I think that their video is outstanding. The information is presented in an interesting way and is very accurate. I was extremely impressed with the quality of the video and the students' knowledge," Dr. Flaws said.
"It is exciting to know that undergraduate students taking classes at other universities read the scientific literature and then incorporate the material with what they learn in class. I think it provides a nice way for undergraduate students to apply their classroom knowledge to understanding biomedical research findings," noted Dr. Flaws.
By Melissa Giese
The papers that inspired the video: