Case Report: First U.S. Modified LATE and Ala Vestibuloplasty in Brachycephalic Dog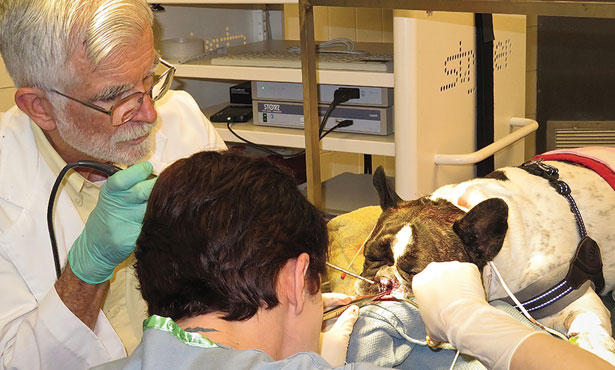 As brachycephalic dogs continue in popularity and are bred for shorter snouts in the United States, more complex and multi-tiered surgical procedures are indicated. This case report is a successful demonstration of more advanced techniques that can be performed to combat brachycephalic syndrome.
In June 2017, a 1-year, 8-month-old male-castrated French bulldog from Louisiana presented to the University of Illinois Veterinary Teaching Hospital for a consult with the soft tissue surgery service.
The dog had a history of ongoing brachycephalic airway syndrome and difficulty breathing since he was adopted at 6 weeks of age. When he was 10 weeks old, his housemate inflicted a bite wound on the left side of his face, exacerbating the respiratory problems and causing snuffled sounds when breathing at all times. The referring veterinarian prescribed prednisone every other day and Flonase at night when the dog appeared to have more difficulty breathing.
Update on the Respiratory Clinic
At present, the University of Illinois is the only institution in the U.S. where the LATE procedure is performed. Evaluating referral information to triage and schedule patients is a slow process, and the procedure itself is extremely time intensive.
As of January 2020, there is a waitlist for patients seeking the LATE procedure; these patients are actively being scheduled. Unfortunately, we not adding new patients to the waitlist at this time.
Dr. Heidi Phillips is deeply committed to enrolling new patients in the respiratory clinic. It is expected that new patients may be added to the waitlist by summer 2020. Please refer to this webpage for updates at that time.
We appreciate the patience of pet owners and referring veterinarians, and their excitement over the LATE procedure!
When hospitalized for castration at approximately 7 months of age, his airway was evaluated; saccules were not everted, and his soft palate was determined to be of appropriate length. Upon presentation at the University of Illinois, the dog was not coughing, sneezing, or vomiting, and urinations, defecations, and bloodwork were unremarkable. His appetite was normal and he was fed a home-cooked diet formulated by the family veterinarian. He had a history of hydrocephalus and syringomyelia caused by a caudal occipital malformation.
A CT scan of the head, neck, and thorax was performed and observations included moderate alveolar bone lysis seen rostro-dorsal and lateral to 203, as well as increased soft tissue attenuation that extended caudally into the ventral aspect of the left rostral to mid nasal cavity and was accompanied by focal regional turbinate loss. Circumferential moderate to marked narrowing of the nasal cavity due to symmetric impingement by the maxillary and nasal bones was also noted. Mild quantitative asymmetry in nasal turbinates was noted, being more numerous on the right than the left.
Due to persistent intranasal stenosis with a strong developmental and a possible traumatic component, the patient was recommended for a rhinoscopy, bilateral ala vestibuloplasty, and laser assisted turbinectomy (LATE), a procedure that had yet to be performed in the United States.
The soft tissue surgery consultation and procedures were performed by Dr. Heidi Phillips, a board-certified surgeon, and Dr. Brendan McKiernan, a board-certified internal medicine specialist with over 40 years of expertise in respiratory diseases of companion animals.
During a sedated oral and laryngeal exam, the soft palate was found to be elongated by a couple of millimeters, the saccules were not everted, and there was no excessive tissue in the throat. Rhinoscopy showed a significant amount of mucosal contact among the turbinates in both nostrils.
Oxymetezoline was administered intranasally to vasoconstrict the mucosa. Using the LATE technique reported by Dr. Gerhard Oechtering in 2016, a 980 nm diode laser was utilized to resect the stenosing turbinate, focusing primarily on widening the medial and ventral meatus. Some scar tissue was noted in the left naris, creating a few bands across conchae that were resected via laser. On the ventral aspect of the left naris there was an area of gray/black/tan necrotic-appearing tissue that was consistent with CT observations of soft tissue attenuation caudal to 203, extending into the nasal cavity. This tissue was debrided with the laser and flushed with saline using nasal hydropropulsion.
Lastly, the vestibular folds were resected bilaterally using a 10 blade. Cotton-tipped applicators soaked in epinephrine were inserted into the nares to decrease bleeding from the cut surfaces. No surgical complications were encountered during the procedures.
The patient was kept in an oxygen cage overnight and discharged two days later with Tramadol, Clavamox, prednisone, Flonase, and Phenylephrine nasal spray after recovering well from surgery. Mild congestion was noted due to nasal swelling during appropriate tissue healing. The owner was advised to monitor him for signs of respiratory distress. Depending on the effectiveness of this initial aggressive surgery, a minor revision LATE surgery might be indicated to refine the turbinates once healing is complete.
Well-practiced surgical techniques for dogs with brachycephalic syndrome include wedge resections and laser ablation for stenotic nares, staphylectomy (or modified palatoplasty) for elongated soft palates, laryngeal saccule transection for everted laryngeal saccules, and tonsillectomy for everted palatine tonsils. However, these methods are successful only in their targeted region of the upper respiratory tract, and none of these methods allow for correction of stenosing, or aberrant growing, turbinates. With long-term selective breeding of these dogs for their flattened facial features, their respiratory difficulties have progressively worsened, requiring a more developed, multi-level surgical approach.
For animals with significantly narrowed nares, a typical wedge resection can be advanced to an ala vestibuloplasty, which addresses both the outer alar wing and a secondary obstruction inside, the nasal vestibule. The outer part of the ala nasi is resected along with the obstructive vestibular part of the nasal wing. A modified ala vestibuloplasty was performed in the case detailed above; the alae nasi were not obstructive and therefore left intact in this patient. The literature shows that aggressive correction of stenotic nares should always be performed concurrent with LATE in order to prevent collapsed nares.1, 2
Laser-assisted turbinectomy is a method to address stenosing turbinates, especially those that grow aberrantly into the nasal meatus (defined as rostral or caudal aberrant turbinates; RATs or CATs, respectively) as well as the increased mucosal contact points between mucosal surfaces. A "hot" thermal laser energy is used for this procedure in order to ablate intranasal tissue and coagulate blood vessels.
This was the first LATE performed in the United States, and there were no surgical complications. Partial conchal regrowth has been documented after LATE; however, in most cases the regrowth is not extreme enough to cause mucosal contact and reobstruct the nasal cavity.1 In the rare event that regrowth causes obstruction, a more refined, follow-up LATE procedure may be indicated.
For additional information, please contact Dr. Phillips or the soft tissue service at the Veterinary Teaching Hospital at (217) 333-5311.
1Schuenemann R and Oechtering G. Inside the Brachycephalic Nose: Contact Points. JAAHA 50;149-58, 2014.
2Schuenemann R, Oechtering G. Inside the Brachycephalic Nose: Conchal Regrowth and Mucosal Contact Points After Laser-Assisted Turbinectomy. JAAHA 50;237-46, 2014.
—Prepared by Danielle Engel
Feature photo shows the second case performed at Illinois.