Student Goes on Her First Clinical Rotation: Surgical Skills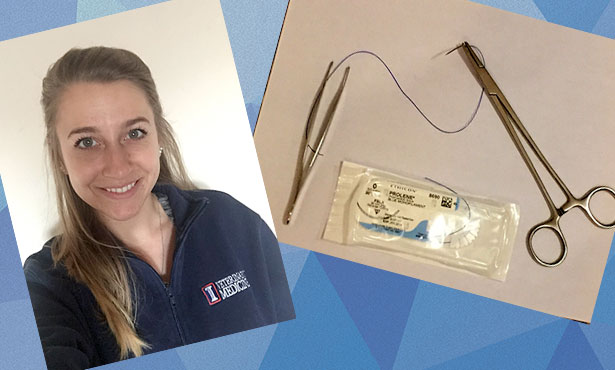 "Rotation vacation" is the sole phrase I heard upon starting my veterinary school education. The University of Illinois College of Veterinary Medicine is unique because its curriculum provides students with clinical rotations in the first year whereas most others start rotations in the fourth year. This allows students to better grasp basic skills and concepts to prepare them for third year, fourth year, and beyond. During these various rotations, which are different every week, students spend more time experiencing clinical life rather than studying. Therefore, to a busy veterinary student, these rotations are almost like time off of school.
Each week of rotations is a new journey and there is continuous excitement of the unknown.

Jen Tito, Class of 2020
My first rotation was surgical skills and, in my opinion, was a helpful one to have first. The outline for this rotation stayed true to what was actually accomplished. Unlike other first-year rotations, the surgical skills rotation was structured, which helped ease me into it coming from class life. Each day began with a review of the last and then we were taught a new set of skills that every veterinarian needs to know how to do. During the first day, I was introduced to the world of square knots, one of the basics needed for closing up incisions. However, tying this knot correctly sounds much easier than it actually is. Luckily, the faculty on this rotation made sure our group was able to semi-master the square knot with a surgeon's throw in a week's time. On top of tying knots, we were introduced to suture equipment, dehorning and castration tools, and supplies necessary for surgeries. Within the first two days, I was able to understand the essentials that go into large and small animal veterinary medicine.
While the days were longer, they passed quickly and we had a much needed "vacation" from studying. I have found, however, that these rotations are not so much a vacation as they are a different, more enlightening way of studying. We are placed in a clinician's shoes and step into our future for a brief moment. Surgical skills provided me with the tools to be a more confident veterinarian one day and understand what life will be like soon enough. I thoroughly enjoyed all that I learned on this rotation and am glad I can utilize these skills throughout the rest of my education and career.
Each week of rotations is a new journey and there is continuous excitement of the unknown. Now that I have been taught everything from placing IV catheters to suturing and bandaging in surgical skills, I can apply those fundamentals in the rotations to come. These clinical rotations remind all of us why we are here and why we are incredibly passionate about this profession. While I may not know fully know what I am doing yet, I am getting a glimpse into the field that is veterinary medicine and am closer to living out my dream.