Fall Forecast: Exciting Conference, New Faculty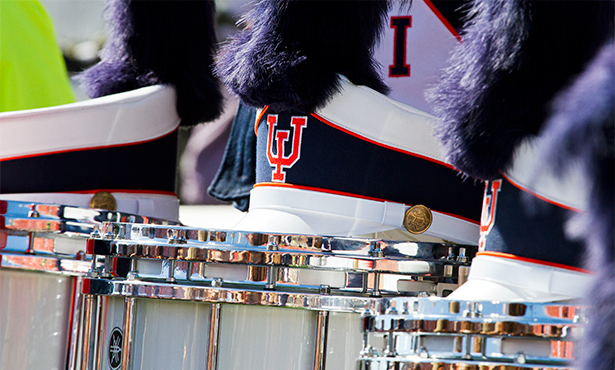 This message appeared in the June 2016 issue of the Chicago Veterinary Medical Association Bulletin.
Excitement Draws Chicagoans to Champaign
The Illinois campus was abuzz on March 7 when Athletic Director Josh Whitman announced a new head football coach.
"Josh approached me about this possibility, and I immediately seized on the opportunity to make a difference in the lives of the young men who are part of the program today and in the future," said Lovie Smith, who led the Chicago Bears to a record of 81-63 as head coach from 2004 to 2012.
"We will play an exciting brand of football that will make our fans, alumni, student body and members of the University community extremely proud."
Lovie Smith is not the first staffer affiliated with the Bears to take a position at the University of Illinois (albeit, in his case, after a brief detour in Florida).
Existing vs. Living
Matt Holland, now a fourth-year Illinois veterinary student—and the president of the Student AVMA—worked for the MLB Network and the Chicago Bears after earning a degree in radio and television journalism from Drake University. "Working in sports television production involved mostly seasonal employment, and I spent the off-seasons pursuing other passions," he said.
In a profile of Matt published in the May 15 JAVMA, he explains why he gave that career up for one of those "other passions": "Working in TV production felt like existing, and working with animals felt like living."
Why am I telling you about Lovie Smith and Matt Holland? It's because I want every one of our Chicago veterinary colleagues to follow in the metaphorical footsteps of those men and come see the excitement that our college has to offer. A great way to do that is to mark the Fall Conference dates on your calendar now and plan to head down I-57 on Wednesday, September 21.
Here is a short list of reasons not to miss the 2016 Fall Conference:
Focus on Celebrating Alumni
Not only will the conference program offerings feature more than two dozen Illinois DVMs, but we're changing the social events to inject more fun and more Illini. On Thursday evening, meet up with former classmates and faculty as the Marching Illini Drumline kicks off the celebration. Dance to the sound of the Low Wines, a band led by our own anesthesiologist Dr. Stuart Clark-Price. And get competitive as reunion year classes vie for the title of most alumni attending Fall Conference. On Friday, everyone is invited to the reunion kickoff at the new Papa Del's Pizza on Neil and Stadium Drive in Champaign.
Great Continuing Education Content
We're expanding the food animal and equine tracks to two days, adding a "Wellness in the Workplace" session, and opening with keynote speaker Jeanne Malnati, an expert in interpersonal and relationship dynamics (and a member of the Lou Malnati's Pizzeria family). A daylong track entitled "Parasites: A Tribute to Dr. Allan Paul's Legacy" will honor the recently retired associate dean for public engagement. And of course there will be plenty of small animal sessions on surgery, behavior, dermatology, neurology, cardiology, ophthalmology, and more.
Meet New Faculty Members
While you are at Fall Conference, make time to say hello to these outstanding clinicians who have joined our faculty since last Fall Conference:
Daniel Duffy: BVetMed, University of Edinburg; residency in small animal surgery, Purdue
Kari Foss: DVM, University of Illinois; internship, Southern California Veterinary Specialty Hospital, Irvine; master's degree and neurology residency, Ohio State; diplomate of the American College of Veterinary Internal Medicine (Neurology)
Lynelle Graham: DVM and residency, Minnesota; diplomate of the American College of Veterinary Anesthesia and Analgesia
Stephanie Keating: DVM and DVetSci, University of Guelph; diplomate, American College of Veterinary Anesthesia and Analgesia
Efa Llewellyn: BVetMed and internship, Royal Veterinary College, London; residency in small animal emergency and critical care medicine, University of Minnesota
Jennifer Reagan: DVM, Washington State; residency in small animal surgery, University of Illinois
Katie Smith: DVM, University of Illinois; internship, Peterson & Smith Equine Hospital in Florida; combined PhD and ophthalmology residency program, Oklahoma State University
Miranda Vieson: DVM, Ohio State; residency and PhD candidate, Virginia-Maryland; diplomate, American College of Veterinary Pathologists, Anatomic Pathology
Jordan Vitt: DVM, Ohio State; internship, University of Pennsylvania; cardiology residency, Texas A&M
The only thing you might miss at this year's Fall Conference is Lovie Smith and Illinois football. So plan to join us October 26 and 27 next year too, because starting in 2017, our conference is going to be scheduled for game weekends.
Read the full lineup of 2016 Fall Conference events and register online: go.illinois.edu/fallconference
If you have any questions or comments for me, I'd love to hear from you. Write to dean@vetmed.illinois.edu.
—Dean Peter Constable