Faculty Spotlight: Krista Keller, DVM, DACZM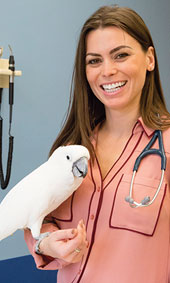 Dr. Keller, assistant professor, is board certified in zoological medicine and specializes in companion zoological animals.
Tell us about your background.
I am a New Englander, but my veterinary career has moved me around quite a bit. I graduated from Ross University (St. Kitts), spent a year at Tufts (Massachusetts), performed an internship at LSU (Louisiana), and a residency at University of California, Davis (California). Before moving to Illinois, I founded an avian and exotics exclusive practice in Denver, Colo., where I worked for 2.5 years.
How did you become interested in zoological medicine?
I often joke that zoological medicine found me! While in veterinary school I got "bit by the bug"; zoo medicine seemed the perfect fit where I could work on a large variety of species and be able to make a difference.
Do you have a specialty or interest within your field?
My research interests include deciphering the epidemiology of a debilitating fungal disease in lizards and exploring new diagnostics for avian and exotic species.
What brought you to Illinois?
After working in private practice, I knew that my passion was back in academia where I could perform research and teach the next generation of veterinarians, as well as treat patients. Illinois was the perfect package, with the perfect team, where I could see myself spending the rest of my career.
Is there something challenging about your job that you secretly enjoy?
Zoo medicine veterinarians love working with a large variety of species; it is what defines us, but it's not always easy. Once I evaluated a group of very sick blue monitor lizards. This species had only been discovered a few years prior, so there wasn't a lot of information about them. It is really exciting to be at the forefront of something like this, but it can also be really challenging, particularly when there are sick animals.
Would you like to tell us briefly about a case that had a great outcome that you thought was almost hopeless?
I once treated a mustache parakeet that had been sent to my clinic for euthanasia by another veterinarian. She had been bitten in the head, picked up and shaken by a much larger bird. She had both intracranial and spinal deficits. Although the client had accepted euthanasia as the most likely outcome, I sometimes have a hard time giving up and I found out that this bird also had the same affliction. Seven days of around-the-clock work, including placing this bird in a custom sling, and she went home. She wasn't normal and never will be, but she flies and she is a part of a family, like she was supposed to be. The family's gratitude made it all worth while.
What do you enjoy doing in your spare time?
Spare time, what's that? In reality, I am a home body! I like watching movies, sitting on the couch with my husband.
What pets do you have?
My husband and I are working on a small zoo! We have a 16-year-old pug that has a wheelchair, a very needy Brussels griffon, a cat that thinks he's a dog, a leopard gecko that's blind in one eye, a cranky tarantula, an umbrella cockatoo, and a pond full of koi!
What do you want veterinarians to know about zoological medicine?
Zoo medicine is medicine! All the approaches to problem solving are the same, regardless of species. And the principles of diagnostics and therapy are the same. Last, but certainly not least, your clients have the same emotional attachments to their exotic pet as they would to a traditional animal, like a dog or cat. If the animal is dehydrated, rehydrate it! You will be surprised how much help you can do. And if you need help, we are always here to give you some guidance!