Faculty Spotlight: Kimberly Hooi, DVSc, DACVIM (SAIM)
Tell us about your background.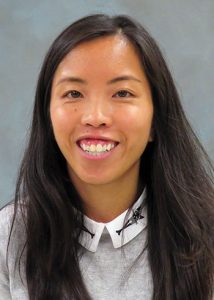 I am originally from Sydney, Australia. I went to veterinary school at the University of Sydney. Following graduation, I worked for a year in general practice in Sydney, then completed a specialty internship in internal medicine and emergency and critical care medicine at a private referral hospital in Sydney, Australia. I stayed on as an emergency veterinarian in the same hospital then moved to Canada to complete a rotating internship followed by an internal medicine residency at the Ontario Veterinary College.
How did you become interested in internal medicine?
The complexity of internal medicine cases and the chase to solve the puzzle of each patient were the major things that drew me to internal medicine. I love being able to figure out the aspects of each case that could be improved or fixed, and then seeing patients and their owners return feeling happier.
What are your special interests?
I am interested in interventional radiology and endoscopy, specifically relating to the respiratory system and the urinary tract.
Outside of work, I enjoy anything to do with the ocean, including scuba diving and kayaking. I also love cooking.
Tell us about a favorite case of yours.
During my residency, I treated a cute dog named Toto that had a rare bleeding intestinal disease that caused him to have severe anemia. He stayed in the hospital for a long time while he received endoscopic cauterization of these intestinal lesions. During this time though he still would sing (howl) with us and wanted to chase his ball. It was really great to see him act himself again when he felt better.
You recently completed some advanced training. Can you tell us about this?
I spent some time at the University of Montreal and the Animal Medical Center in New York, learning interventional and minimally invasive procedures. I will continue to go to these places during the year to gain more experience so I can offer this service at the University of Illinois.