Faculty Spotlight: Kim Selting, DVM, MS, DACVIM (Oncology), DACVR (Radiation Oncology)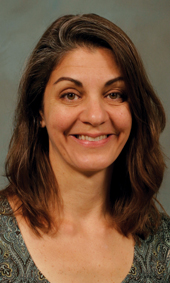 Dr. Selting recently joined the Illinois faculty to grow the radiation therapy program within the oncology service.
Describe your background and interests.
Originally from Colorado, I completed my undergraduate and veterinary studies at Colorado State University. After an internship in New York City at the Animal Medical Center, I spent four years in private practice in St. Louis.
Since veterinary school I had maintained a strong interest in oncology, and I eventually returned to Colorado State to complete a medical oncology residency. When I finished in 2002, I joined the faculty at the University of Missouri, where I have been for the past 15 years. While there I completed a second residency, this time in radiation oncology, and achieved board certification in September 2013.
I have strong interests in cancer biomarkers, new anticancer therapies/novel chemotherapy drugs, and new techniques in radiation therapy. I am interested in looking at the effect of radiation on the tumor microenvironment.
What are your goals at Illinois?
At Illinois, radiation therapy has been limited to the use of a cobalt machine. These are very reliable in producing radiation for treatments but do not have the precision and expanded capabilities that newer machines have. We are in the process of purchasing and installing a linear accelerator, which will bring cutting-edge technology to our oncology program.
The Varian TrueBeam® is able to target a tumor within millimeters, which allows us to increase radiation dose to the tumor and spare surrounding normal tissue. This is the top-of-the-line machine for Varian, a leader in radiation therapy equipment. As a relatively new model, the TrueBeam® will be the gold standard for radiation therapy in people for many years. Very few veterinary centers have this machine in the United States, and very few in the Midwest have similar capabilities. This machine also allows us to use different fractionation schemes (fractionation refers to the way we divide our total target dose into smaller doses) for certain tumors, which can significantly shorten the length of treatment. Ours will be an upgrade of great magnitude, like switching from a tricycle to a Ferrari.
Tell us more about the TrueBeam®.
This machine will allow us to deliver radiation using advanced techniques, such as IMRT (intensity-modulated radiation therapy) and SRT (stereotactic radiation therapy). With IMRT, treatments are fractionated in a usual manner (18 to 20 treatments over four weeks) but each treatment beam is divided into small parts, almost like pixels on a screen, such that we can control how much radiation is delivered to each tiny volume of tissue. With SRT, the target total dose of radiation is divided into 1 to 5 fractions, usually given in a week or less; each fraction is larger than with traditional radiation therapy because we are able to use a CT scan that is actually part of the TrueBeam® to be so precise that we can spare normal tissue structures.
Depending on the goals of the owners, the condition of the animal, and the treatment approach that is taken, we can tailor each course of treatment to each animal to optimize prognosis and minimize the impact on normal tissues and on the quality of life for the pet and their owner. We anticipate completion of the new facility and installation of the new machine by the end of 2018.
What most excites you about your job?
Ever since I was a student, I have been intrigued by all aspects of cancer care. I appreciate the cross-talk that occurs when translating findings in companion animal oncology to humans and vice versa. The translational aspect of oncology is thrilling. Cancer is a formidable foe, and therefore I feel that this is the best way for me to spend my days.