Faculty Spotlight: Jordan Vitt, DVM, DACVIM (Cardiology)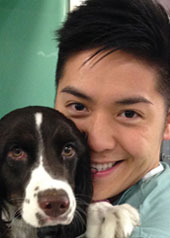 Dr. Vitt is a clinical assistant professor.
Where did you attend vet school? Internship? Residency?
I am from Columbus, Ohio, and did my undergraduate and veterinary degrees at The Ohio State University. I did my internship at the University of Pennsylvania in Philadelphia and completed my cardiology residency at Texas A&M in College Station.
What part of being a veterinary cardiologist most interests you?
Being at the forefront of veterinary medicine with advanced imaging and minimally invasive techniques has always made cardiology very interesting to me. Additionally, I find the physiology very intriguing. Being so specialized allows me to speak to clients about a complicated disease process with great depth of knowledge to alleviate their concerns.
What sparked your interest in joining the faculty at Illinois?
Before he came to Illinois, Dr. Ryan Fries was my mentor during the first year of my residency at Texas A&M. We had a great working relationship, and we picked up where we left off when I came here. I look forward to our future clinical and research collaborations.
Do you have any upcoming publications?
Previously I submitted a case series on Chagas disease in a family of Boxer puppies in the Journal of Veterinary Internal Medicine. Currently I am writing up my residency research project on the pharmacodynamics of pimobendan (Vetmedin®) in cats with hypertrophic cardiomyopathy.
Are you bringing any new or unique procedures/treatments to Illinois?
During my residency training, I was able to able to work with 3D cardiac modeling and printing. I hope to use these innovative techniques to help in minimally invasive and surgical planning techniques as well as to facilitate student and clinician learning.
What would you like referring veterinarians to know that could help their patients?
The recently published EPIC Study reports that the use of pimobendan prolongs the time to the onset of congestive heart failure in dogs with pre-clinical mitral valve disease and enlarged hearts. The parameters of this study are based on echocardiographic evaluation; dogs with large hearts on radiographs should be evaluated with an echocardiogram to see if they may benefit from this medication.
What do you like to do in your spare time?
I am slowly acquiring hobbies now that I've finished my residency. I have most recently gotten into yoga and try to practice several times a week. I have also travel as much as I can. In my recent travels, I was able to spend time at a veterinary hospital at Kasetsart University in Bangkok, Thailand, and mentor veterinarians in cardiology. During that time, I also saw a dog with a patent ductus arteriosus that will be traveling to the University of Illinois for us to repair. Being able to continue to build a relationship with that university, and hopefully other universities, is exciting to me. I would like to help animals with cardiac disease around the world.