Faculty Spotlight: Heidi Phillips, VMD, DACVS-SA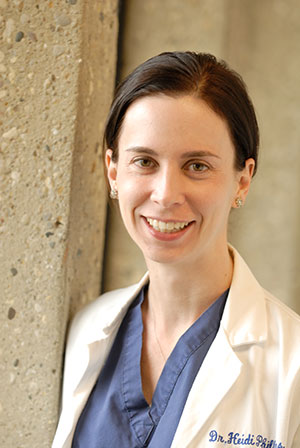 A member of the Illinois Veterinary Teaching Hospital faculty since fall 2012, Dr. Heidi Phillips is a board-certified small animal surgeon with a passion for treating canine and feline surgical diseases. She is trained in transplantation, microvascular surgery and microsurgery.
Her training in special cases of urinary tract surgery allows her to offer a wide variety of treatments for problems of the upper and lower urinary tract. Specifically, cases of ureteral obstruction secondary to stone formation, stricture, or tumor are amenable to repair or bypass by surgery augmented by use of an operating microscope. Additionally, the placement of hydraulic occluders (artificial urethral sphincters) for treatment of urinary incontinence, and surgical treatments for cases of ureteral ectopia are available.
What are the benefits of microsurgery training?
Training in microsurgery provides surgeons a greater skill in tissue handling and hemostasis, improved, more accurate hand skills, and abilities to treat diseases previously thought to carry a poor prognosis or not have a procedure available to treat them.