Faculty Spotlight: Efa Llewellyn, DVM, Member of the Royal College of Veterinary Surgeons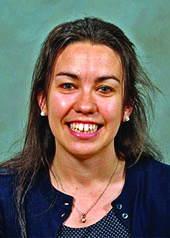 Dr. Efa Llewellyn is a clinical assistant professor.
Tell us about your background.
I am originally from Wales. For as long as I can remember, I had the ambition of becoming a veterinarian. I was fortunate to be able to fulfill this desire by graduating from the Royal Veterinary College, London, which is also where I completed my small animal rotating internship. I moved to the United States in 2013 to complete my emergency and critical care residency at the University of Minnesota.
Do you have any hobbies?
I have always been a very active person, enjoying both middle-long distance running and swimming. Unfortunately, during my residency I had little free time to dedicate to sport and so I am trying to currently make up for lost time by exploring the running routes around Champaign-Urbana.
What do you enjoy most about emergency medicine?
I love the variability, pace, and critical thinking that are involved. I embrace the challenge of treating the most critical emergent patients, where time is often of the essence. I love never knowing what is going to come through the door. I am also passionate about teaching emergency medicine, which can be daunting, to veterinary students in both a classroom and a clinical setting.
Do you have a specialty or interest?
Recently, when a student asked me this question, I started listing off multiple emergency conditions. It occurred to me then that I love all aspects of emergency medicine. I do particularly enjoy the management of patients with an acute abdomen (sudden onset abdominal pain), which involves detective work to try to find the cause, and ultimately trying to determine whether the condition can be managed medically or requires surgery.
When it comes to critical care, what do you want veterinarians to know?
The emergency and critical care team is available 24/7 for consultation on an emergent or critical case. We are happy to provide advice for these patients being managed with their primary practitioner or discuss potential stabilization prior to referral to our emergency service.