Faculty Spotlight: Kenneth Welle, DVM, ABVP (Avian)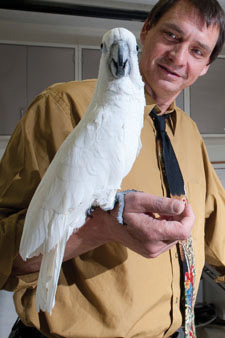 Dr. Kenneth Welle, who for many years had lectured and supervised students while a local practitioner, joined the clinical faculty full time in 2011.
What is your favorite thing about being an exotic animal veterinarian?
The existing literature and knowledge base in exotic animal practice is so much smaller than in dogs and cats, and given the almost endless number of exotic species, the potential for continued growth of this information is phenomenal. I never go through a day without learning something new.
What would you like general practitioners to know about exotic animal patients?
I think the most important thing is that they don't forget what they know just because the species is different. Sure, there are very important differences between exotic species and more familiar species, but there are far more similarities.
Many times the limiting factor for seeing these species is technical. Collecting a blood sample from a bird can be a risky procedure for an inexperienced handler. As a result, sometimes practitioners proceed with less diagnostic information for an exotic patient.
This article appeared in rvetILLINOIS Vol. 1, Issue 6.