Faculty Spotlight: Daniel Duffy, DVM, BVM&S(Hons.), MS, MRCVS, DACVS-SA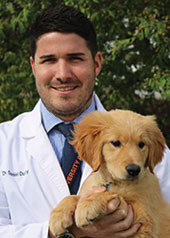 Dr. Dan Duffy is a clinical assistant professor of small animal surgery.
Where did you live and work before coming to Illinois?
I grew up on a working sheep farm on the coast of Yorkshire in rural North East England with parents who were both mixed animal veterinarians who owned their own practice. Growing up standing on hay bales to help with cesarean sections and dystocias sparked my passion for science and a love of nature. I later attended the Royal (Dick) School of Veterinary Studies in Edinburgh, Scotland, where I graduated with honors. Next I travelled to Colorado State University for an intensive small animal medicine and surgery internship. Before joining the Illinois faculty in the fall of 2016, I completed a three-year residency in small animal surgery and combined master's degree in science and applied research at Purdue University.
What led you to remain within an academic setting?
A significant element of my desire to work in a progressive academic environment is the fact that I find teaching and discovery to be a mutually rewarding and beneficial experience. During my surgical training, I found great satisfaction in student and house officer education, enhancing their learning experience and developing a greater depth of understanding, making them question 'why…?' while solidifying one's own knowledge base and keeping abreast of continually changing ideas, concepts, and literature within the profession. This is challenging, but also greatly satisfying to me. It's a great feeling when you can see that the hard work you do has a positive effect on others.
What do you enjoy most about your career as a surgeon?
For me, surgery is an amazing specialty to be a part of. As a surgeon, you can immerse yourself in multiple different specialties that we use every day, such as imaging, medicine, and critical care, both pre- and post-operatively. There is also a great working relationship with our anesthesiologists and technicians, without whom we would be at a loss. I love the ability to teach and share knowledge while also gaining a great deal from my fellow surgeons here at the university.
What excites you most about being at Illinois?
I am excited about establishing a great working relationship with referring veterinarians. I have also found my academic experiences to be extremely rewarding. I have benefitted from strong and transformational mentorship, and I endeavor to provide these positive interactions for students, house officers, colleagues, clients, and our referring community in the future. I feel very lucky to have joined the team at Illinois that also supports this work ethic, motivation, and progressive attitude toward teaching and research.
Is there something that our referral population would find interesting to know about you?
When not engaged in clinical responsibilities, I like to spend my time outside, whether hiking, biking, camping, climbing, or fighting a fish on the fly. I am an avid fisherman and enjoy fly fishing for trout and bass or going out on the water of Lake Michigan. I have also developed some close friendships at the university and like to socialize when I have free time.
What research projects are you working on?
There are a few prospective and retrospective studies that I had started with the surgery group here even before arriving in Illinois. I am also working on a couple of biomechanical studies with both small and large animal surgeons using barbed suture, which may then have direct clinical application for utilization in minimally invasive approaches.
What is most rewarding for you as a practitioner and/or as a professor?
As a clinical assistant professor, a significant amount of my time is invested in training veterinary students, interns, and residents not only on clinics but also in the classroom and laboratory, working on cadavers and spay neuter labs. It is a truly rewarding experience to watch the next generation of veterinarians becoming passionate and interested in surgery, being actively engaged in their own learning, and growing in knowledge as well as surgical skill and ability. I find it rewarding that students, interns, and residents especially take pride in their accomplishments and are able to pass on their knowledge and excitement to others in the field.