Faculty Spotlight: Caroline Tonozzi, DVM, DACVECC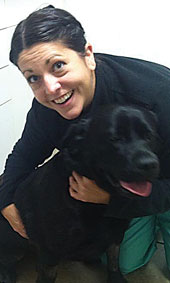 Dr. Tonozzi is a clinical assistant professor of veterinary clinical medicine.
Tell us about your background.
I graduated from the University  of Illinois College of Veterinary Medicine in 2003. I had done an internship at VCA Veterinary Referral Associates, then went on to a residence in emergency and critical care at the Animal Emergency Center in Milwaukee, Wis. Most recently I had been at VCA Aurora Animal Hospital in Aurora, Ill., where I had worked as a critical care specialist for the past 10 years. I have also volunteered at the Iditarod sled dog race for the past two years.
What brought you to Illinois? 
I have very fond memories of living in Champaign-Urbana as a student. The idea of coming back to this area had been very appealing, and I had a very positive experience when I interviewed. It had been like coming home. I look forward to this new chapter in my life!
What do you enjoy doing in your spare time?
I am an active runner. I've finished all kinds of races, from 5K up to 100 miles. The 100-mile distance is a favorite. I love to bake, read, garden, and spend time with my nieces and nephew.
Do you have any pets?
I have three dogs, Tess, Cordelia, and Charlotte, all rescued during various stages of my career.
Would you like to tell us briefly about a case that had a great outcome that you thought was almost hopeless?
One of my very close friends had adopted a dog, a beautiful lab named Maggie, who had a very rough start to her life. Maggie became very ill one weekend, and I had admitted Maggie to the ICU to treat for sepsis. Maggie, of course, had gotten all of the complications that patients with sepsis deal with, which can make cases like this extraordinarily complicated. Maggie did not let something like sepsis stop her, and she responded to each treatment with flying colors. A week later, I had the extreme pleasure of discharging one of the sickest animals I've ever treated home to her family.
What do you want veterinarians to know about ER?
The ER can be a very intimidating place and so many things can happen at once. It doesn't have to be scary! What vets may not know as they get out of school is that they will triage and treat emergent cases throughout their career, from the owner bringing in their pet after being hit by a car to dealing with anesthetic complications. The skills I try to teach are universal so that no matter what, he or she will be prepared to handle whatever is put in front of them, even if it's not in an actual emergency room.