Faculty Spotlight: Anne Barger, DVM, MS, DACVP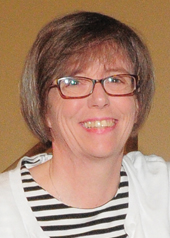 Dr. Barger is a clinical professor of pathobiology.
Tell us about yourself.
I earned my veterinary degree from Illinois in 1996 and have been a faculty member at the college since September 2002. I currently live in Champaign, and I have three dogs, a cat, and an aquarium. Golden retrievers are my favorite dogs, but I truly love all dogs. Clinical pathology has been a true interest of mine since I was in veterinary school. I was an emergency technician for the clinical pathology lab as a third- and fourth-year student, and I really enjoyed it.
What do you enjoy most about being a clinical pathology professor?
To me, clinical pathology allows us to put the pieces of a puzzle together and start to answer questions about the diagnosis and the underlying pathology. I also love that I get to work with all kinds of species, which keeps things interesting.
Is there an area of pathology that you find the most interesting to teach or study? Why?
I like to study cytology, and I have been able to develop some interesting collaborative research projects with cytochemical staining and immunocytochemistry. There is so much art to cytology, and I still really enjoy diagnosing a cool fungus like blastomycosis or helping a veterinarian diagnose a challenging tumor.
As far as teaching, I love teaching about blood work. There is nothing more rewarding than watching a student understand how changes in the components of the blood can help us make a diagnosis. Clinical pathology can help students understand physiology as well as pathology. It's so cool to see the look on their faces when they get it and to be able to use a clinical case to help them understand the big picture. I'm lucky that teaching is my job.
Are you writing about anything new?
Recently, I co-edited a cytology textbook: Small Animal Cytologic Diagnosis. I'm really proud of it. We tried to incorporate clinical cases whenever possible and really focused on image quality and quantity. The book is a little big; I think the publisher wanted the images to be as large as possible. It's a funny size, so not a good bathroom read.