Eye Exam Programs Available for Service Dogs, Companion Animals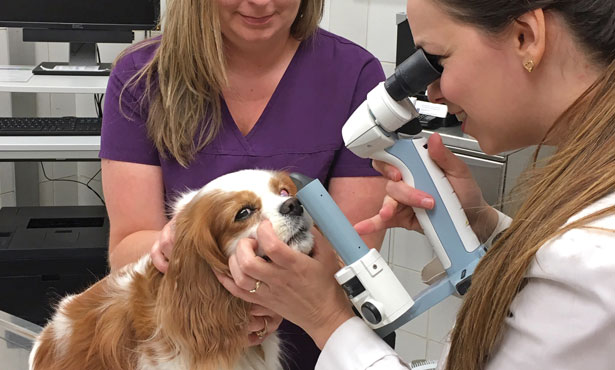 In May, the ophthalmology faculty at the Veterinary Teaching Hospital provided free, ocular screening eye exams to qualified service and working animals as part of the National Service Animal Eye Exam Event, promoted by the American College of Veterinary Ophthalmologists and sponsored by Stokes Pharmacy. Board-certified veterinary ophthalmologists across the U.S., Canada, and Puerto Rico provided more than 7,500 free eye exams to guide, handicapped assistance, military and drug detection dogs, search and rescue animals, among others. The event has been held 11 times, and over 60,000 animals have benefited.
Be sure to alert your relevant clients to this opportunity next year. Registration occurs via the national website in April, and the exams take place in May.
Both Dr. Kathryn Fleming and I volunteered time and resources this year to ensure service animals' eyes are in perfect condition for them to accomplish their job. The examination included slit-lamp biomicroscopy and indirect ophthalmoscopy to screen for any ocular alteration that would impact the animal's vision or comfort, such as cataracts, uveitis and retinal degeneration
It is important to emphasize that, whether or not your patient is a service or therapy animal, an annual eye exam is recommended. This is particularly true for breeding dogs and puppies that may be used as a future sire or dam. For these animals, a specific program is in place, the OFA Companion Animal Eye Registry (CAER).
The OFA-CAER exams are performed by a board-certified ophthalmologists to screen for any ophthalmic alteration that could be inherited, so that breeders can make an informed decision about breeding their dogs. Owners may submit their completed CAER exam to OFA to obtain a certificate (either of "free of ocular diseases" or naming the abnormalities observed, in case those are listed as "breeder option"). In general, alterations such as cataracts, glaucoma, dry eye, and retinal degeneration do not pass the exam, and those dogs do not get a certificate.  There is a fee associated with CAER exams, but it is a reduced cost compared to a traditional ophthalmic exam as diagnostic testing is not performed.
Regardless of whether or not the client submits their CAER exam to OFA, all CAER data from ophthalmologists are collected and aggregated for statistical analysis and information such as trends on eye diseases and breed susceptibility may be tracked. Ultimately, this program seeks to decrease the frequency of inherited ocular abnormalities and produce healthier dogs. Every couple of years, the OFA and ACVO genetic committee publishes the statistics gathered from CAER exams so that clinicians, breed clubs, individual breeders, and owners may have access to this important information. The most recent data can be found at: www.ofa.org/wp-content/uploads/2018/01/Bluebook-v9-2016.pdf
For more information, please do not hesitate to contact the University of Illinois Ophthalmology Service either by phone at 217-333-5374 or via our consult email: vet-eyes@illinois.edu.
—Bianca Martins, DVM, MS, PhD, DACVO