Our Mission
Our mission is to enhance the skills of
veterinarians while fitting into their
busy schedules.
Since 1991 the University of Illinois College of Veterinary Medicine has offered the Executive Veterinary Program™ (EVP) certificate in swine health management. The program was developed to enhance the business, communication and strategic planning skills of veterinarians while fitting into their busy schedules. In 1993, the College received the Merck Agvet Award for Creativity in Education for its innovative approach to filling a deficit in the education of veterinarians.
Recognizing a need for such training in other segments of the industry, the College expanded the program in 1998 to include a certificate in small animal health management. The addition of this certificate program allowed for more veterinarians from around the country to experience personal and professional development in the areas of industry trends, communication, leadership, economics and finance, marketing, legal and ethical issues, public health concerns and strategic planning.
The College continues to expand the Executive Veterinary Program by exploring areas of specialty within veterinary medicine. The first EVP in Small Animal Ultrasound began in 2011.
Program Goals:
To provide a beneficial and highly-motivating educational experience for veterinarians with an interest in improving their effectiveness;

To serve as a network that enhances the sharing of ideas among veterinarians and that promotes dialogue on issues critical to the changing industry;

To raise the qualifications and abilities of practicing veterinarians to provide a higher level of service to the industry;

To stimulate interest in current and developing career opportunities; and

To improve the physical and financial performance of the profession given concerns for the environment, animal welfare, and wholesome products for society.
The Executive Veterinary Program instructors are nationally-recognized experts in the field, from both academia and industry.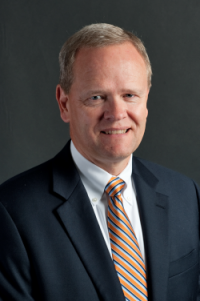 Dr. Larry Firkins
College of Veterinary Medicine
University of Illinois
Dr. Firkins is the recognized leader for training livestock producers in human resource and leadership skills.
Dr. Jim Lowe
College of Veterinary Medicine
University of Illinois
Dr. Lowe's practical experience in teaching, consulting, and managing pork production systems brings a pragmatic, get-it-done perspective to practical business problems.
Crystal Zulauf
Associate Director
Office of Public Engagement
University of Illinois
Crystal manages all of the behind-the-scenes and logistical aspects of our EVP courses.