EVP: Swine Class Enrolling Now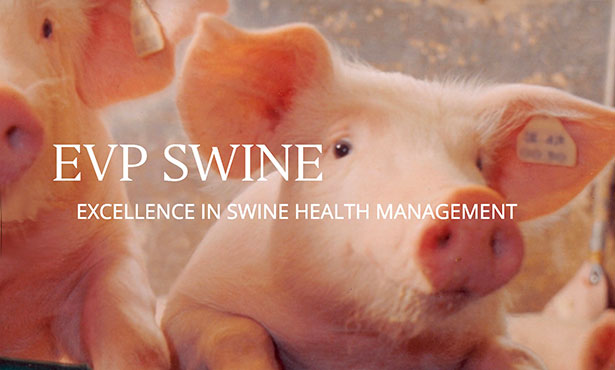 Early Registration Ends May 5
For the seventh time in its 28-year history, the Executive Veterinary Program: Swine Health Management has opened enrollment to veterinarians seeking to gain advanced skills needed by industry leaders.
The program will convene at the College of Veterinary Medicine in Urbana, Ill., ten times between August 1, 2019, and February 5, 2021. The cost is $10,000, and participants who register by May 5 will receive a $1,000 early registration discount.
Prepared to Lead
Graduates of EVP report that the program equips them to manage ongoing and new challenges in the swine industry.
"If there is one constant in the swine industry, it is change," noted Dr. Jessica Risser, animal health and welfare manager at Country View Family Farms in Elizabethtown, Pa., when she graduated from EVP: Swine in 2016. "We are prepared to use these skills we've acquired and to learn and adapt new ones, to think outside the box, to challenge the industry's as well as our own dogmas, and to respond in a way that is organized, professional, and successful."
EVP follows a proven recipe for success: Start with a group of 40 progressive practitioners committed to growing their careers. Add in top-tier speakers who stimulate learning about topics that are not covered in vet school, such as leadership, systems management, communication, and data analysis skills. Allow these components to percolate over the span of 18 months in a supportive but demanding environment.
The outcome is improved critical thinking and problem-solving skills for participants who are now close colleagues.
History of Impact
First offered at the University of Illinois in 1991 by program originator Dr. LeRoy Biehl, the EVP credential has become synonymous with impact and influence in swine medicine. The 222 EVP: Swine graduates to date encompass individuals from 16 states and three countries, including:
40% of the past presidents of the American Association of Swine Veterinarians (AASV)
36% of the AASV Practitioner of the Year award winners
42% of recipients of the AASV Young Vet of the Year Award
31% of those selected to deliver the AASV Howard Dunne Lecture
Current program coordinators are both EVP graduates.
Dr. Larry Firkins, professor and associate dean for public engagement at the University of Illinois College of Veterinary Medicine, participated in the first offering of EVP: Swine. An international expert in human resource and leadership training for swine operations, he has delivered more than 700 presentations in the U.S and 16 other countries. He's also been instrumental in bringing business education into the veterinary curriculum at Illinois and other U.S. veterinary colleges.
Dr. Jim Lowe, associate professor and director of the veterinary college's i-Learning Center, focuses on practice-relevant research to advance food animal production as well as innovative instructional methods for delivering knowledge to a diverse set of learners. Dr. Lowe also consults and speaks around the world.
"Since the last EVP: Swine course wrapped up three years ago, we've successfully delivered the first EVP: Beef, a collaboration with Kansas State University," noted Dr. Lowe. "We're planning to launch a second EVP: Beef in 2020, which will overlap with the next EVP: Swine course."
Over the past three years Drs. Firkins and Lowe have also strengthened connections with swine practitioners and producers in Japan, China, South America, Singapore, and Europe. Dr. Lowe is currently conducting a risk assessment of African Swine Fever commissioned by a group of European pork producers.
Community of Leaders
Networking is perhaps the biggest intangible delivered through EVP.
"The value of the EVP experience derives as much from the individuals in the seats as it does from the speakers at the front of the room," said Dr. Firkins. "The networking that occurs throughout an EVP course benefits the individuals and also promotes dialogue on key issues confronting the pork industry."
To illustrate the caliber of learner sought for the next offering of EVP, Dr. Firkins points to the influential leaders that graduated from the most recent EVP: Swine cohort.
"Those veterinarians collectively oversaw the care for more than 40% of all pigs sold in the U.S. each year, were responsible for 70% of all of the genetic replacement animals sold in North America, and represented all the major multinational animal health companies doing business in the U.S.," he said.
Enrollment is limited to 40 people. For details about the dates and speakers for the program, and to register, visit: https://vetmed.illinois.edu/evp/swine/ or call 217-333-2907.