Equine Updates: News from Your College of Veterinary Medicine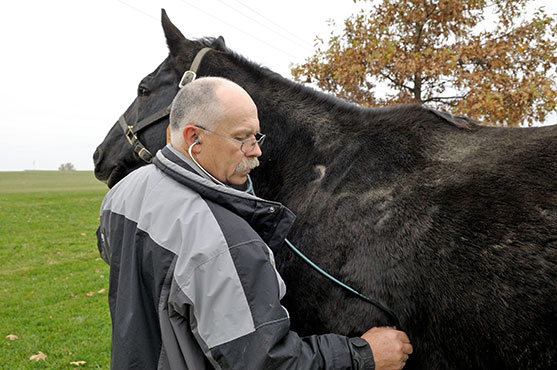 This message appeared in the spring 2015 issue of the Illinois State Veterinary Medical Association Epitome.
Last December I attended the college's alumni reception
at the American Association of Equine Practitioners convention in Salt Lake City. Dr. Scott Austin, who heads the equine service section in the Veterinary Teaching Hospital, was also at the meeting.
The reception allowed us to connect with alumni and showcase news about our excellent equine faculty and services. In the months since, there's even more to share about our equine services in the areas of reproduction, surgery, sports medicine, critical care, and imaging.
Dr. Igor Canisso joined the equine section in June after completing a PhD in equine reproduction at the University of Kentucky, Lexington. He earned his veterinary and master's degrees in his native Brazil. Boarded by both the American College of Theriogenologists and the European College of Animal Reproduction, Dr. Canisso has a strong interest in mare reproductive medicine and stallion reproduction.
In January equine surgeon Dr. Annette McCoy joined the faculty. Boarded in large animal surgery and with a PhD in comparative and molecular biosciences from the University of Minnesota, she—like Dr. Canisso and other recent faculty hires—brings a combination of clinical and research strengths that is crucial for advancing the leadership status of Illinois.
Dr. McCoy earned her veterinary degree at Michigan State University and completed a large animal medicine and surgery internship at the University of Minnesota, followed by a residency in equine surgery and lameness and master's degree at Colorado State University. Her research interests focus on genetic susceptibility and risk factors for orthopedic diseases in horses.
Dr. Santiago Gutierrez-Nibeyro, who is boarded in equine surgery, recently gained diplomate status in the American College of Veterinary Sports Medicine and Rehabilitation, an approved specialty since 2010. He presented at the AAEP meeting on palmar/plantar digital neurectomy in horses with foot pain.
Dr. Matthew Stewart combines clinical service with a strong focus on basic research addressing equine lameness. He has two scholarly articles published so far in 2015, one on equine lameness and carpal sheath effusion and another on the genetic sequencing of the equine cartilage protein aggrecan.
These faculty members, along with Dr. Jonathan Foreman, who developed a reversible model for lameness using an adjustable heart bar shoe and who was recently elected to the organizing committee of the International Conference on Equine Exercise Physiology, represent a core strength in the field of equine sports medicine, an area for potential growth in our college.
Meanwhile, Drs. Pamela Wilkins and Kara Lascola remain active on the medical front. Dr. Wilkins, who is boarded in internal medicine as well as critical care, coauthored with Dr. Louise Southwood the book Equine Emergency and Critical Care Medicine, published by CRC Press in October.
Drs. Wilkins, Lascola, and Stefanie Reed investigated the clinical impact of secondary lung injury caused by endotoxemia arising in bacterial infections of horses. In a February 2015 article in the American Journal of Veterinary Research, Dr. Wilkins and Dr. Maureen McMichael showed that horse blood is stimulated to clot much more quickly outside the blood vessels than is the blood of dogs or humans. This difference may help to explain why very sick horses are prone to clot quickly with some diseases.
Equine resident Dr. Breanna Sheahan won the award for the best large animal abstract by a house officer at the International Veterinary Emergency and Critical Care Symposium last fall for her paper, with Drs. Wilkins, Lascola, and others, entitled "L-Lactate area in neonatal foals: Preliminary results in normal foals from birth to 14 days of age."
Dr. Austin, who is boarded in large animal internal medicine, devotes much of his time to teaching and delivering clinical service through ambulatory equine primary care. He also actively contributes to veterinary continuing education. In November he was the featured speaker for the equine track at the American Board of Veterinary Practitioners Symposium, held in Nashville, Tenn., where he delivered six hours of lecture on such topics as management of endotoxemia and laminitis, management of common foal disorders in the field, and current challenges in equine diagnostics.
He notes that our hospital's equine diagnostic imaging options have recently expanded.
"We can now offer computed tomography of adult horses' feet and heads with the recent acquisition of a table that supports large animals in our spiral CT," says Dr. Austin.
I encourage those of you with equine patients to take advantage of the clinical and diagnostic services available at your college of veterinary medicine. If you'd like to contact me, please email dean@vetmed.illinois.edu.
—Dean Peter Constable