Illinois Veterinary, Horseshoe Schools Offer 'Spa Day'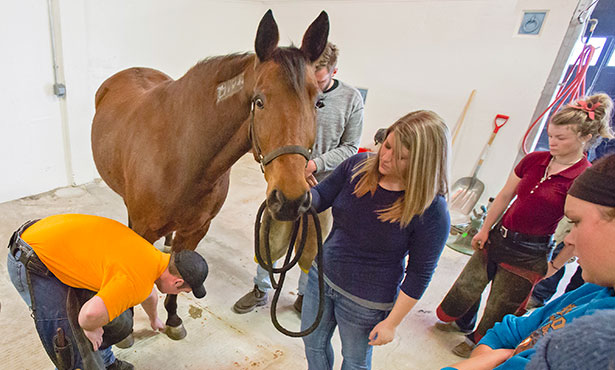 Treat Your Horse to Spa Day
Has your equine friend grown a bit long in the tooth? Does he need his nails trimmed or new shoes?
Register for a spot at the "Spa Day" happening on Saturday, July 15, at the Midwest Horseshoeing School in Divernon, just 15 miles south of Springfield, Ill., on I-55.
For modest fees, farriers- and veterinarians-in-training at University of Illinois programs are ready to trim hooves, shoe horses, float teeth, assess the animal's parasite load, and provide a general wellness examination, including vaccinations as needed. All care will be supervised and approved by a licensed equine veterinarian or certified journeyman farrier.
'"Spa Day" is an opportunity for horse, mule, and donkey owners in west central Illinois to secure affordable care for their animals. The University of Illinois College of Veterinary Medicine is sponsoring the event to enrich the experience of students at the Midwest Horseshoeing School, which became part of the college in February 2017. In addition, veterinary students and intern veterinarians from the college's Veterinary Teaching Hospital in Urbana will be on hand in Divernon to deliver veterinary services.
Appointments are available beginning at 9 am. Prices listed below apply to services performed at Spa Day only.
To reserve your spot, call Emily Price at 217-300-5621.
Farrier Services

Veterinary Services

Hoof trims
$10
Routine veterinary exam
$20
Two shoes
$20
Vaccinations with exam: additional fee, depending on vaccine 
Four shoes
$30
Float teeth
$45
Fecal samples collected for parasite evaluation
$12
Please note: Horses that are not accustomed to being handled may require sedation at an additional fee of $20.
More About Farrier Services at Illinois
The Midwest Horseshoeing School is also enrolling students now for farrier courses beginning July 10 and August 21. Course length is flexible to meet the needs of the student, ranging from 2 weeks to 20 weeks. New sessions occur every six weeks. Learn more or enroll now at the school's website: midwesthorseshoeingschool.com
The Veterinary Teaching Hospital is also home to a full-service therapeutic farrier service, Middlefork Forge at Illinois. For appointments with this service, which sees horses at the hospital in Urbana on Wednesdays and on farms/stables throughout west-central Indiana and east-central Illinois on other days, call 217-300-5508.
Read about a recent case where the equine surgeon worked closely with the therapeutic farrier to resolve the problems of a horse with lameness caused by bilateral keratomas.