Innovation.
We are pioneers in using technology to advance learning. Our goal is to educate professionals  prepared to tackle real-world challenges.
That's the Power of I.
Introducing Technology to Veterinary Education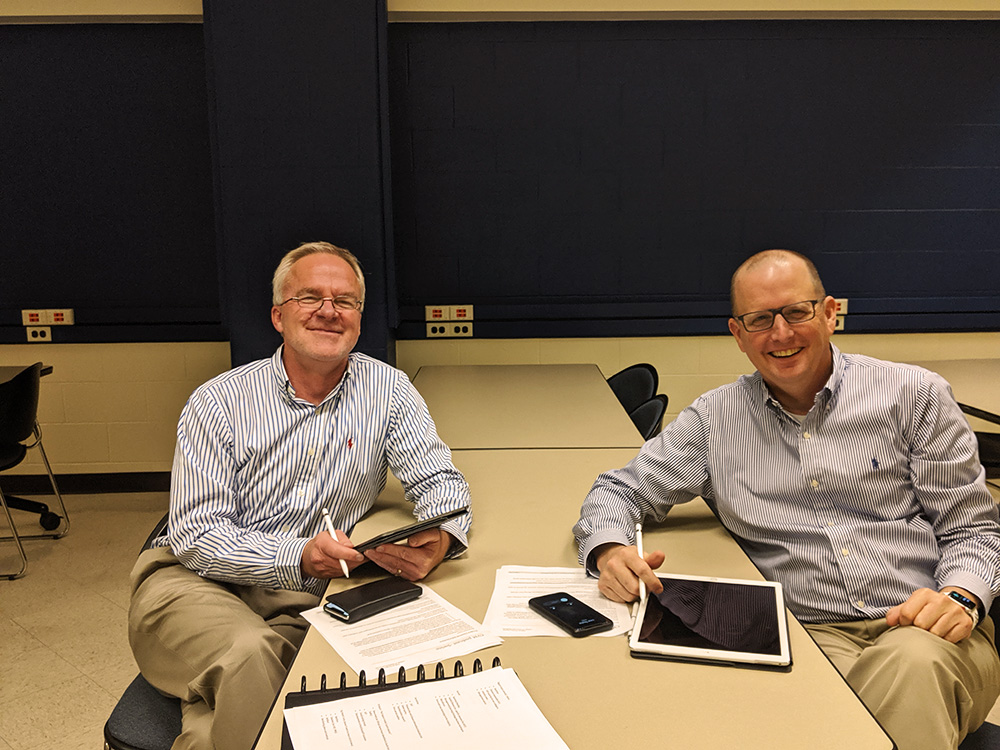 In the 1960s, well before computer-aided instruction was in vogue, the college implemented a program developed on the Urbana campus called PLATO, for Programmed Logic for Automatic Teaching Operations. Nearly 400 hours of veterinary instruction was made available through PLATO in its first four years of development.
The college was also among the first to offer continuing education to remote learners through "Veterinary Education Online," launched in the early 2000s. In 2015, Drs. Jim Lowe and Brian Aldridge created a massive open online course (MOOC) on the topic of sustainable food production through livestock health management.
i-Learning Center
The preeminent source for online veterinary education
Established in 2017 through a $1 million grant from the Investment for Growth Program at the University of Illinois at Urbana-Champaign, the College of Veterinary Medicine i–Learning Center develops and delivers world-class educational opportunities designed to meet the individual needs of a diverse global audience.
The College of Veterinary Medicine i-Learning Center:
Delivers content that addresses vital societal needs worldwide, such as sustainability of food production, wildlife and environmental health, and emerging infectious disease;
Builds synergies within the college and across the campus by cultivating, guiding, and hosting a collaborative of content experts;
Employs best-in-class technology, materials, and pedagogies to create impactful educational programs that are scalable, flexible, and efficient.
Develops new graduate degree programs, educational materials, and elective courses; novel certificate programs; and online/blended continuing education offerings.
In 2019 the i–Learning Center launched an online Master of Veterinary Science degree with a major in Livestock Systems Health. This 32-credit-hour degree program, taught by a team of food animal production medicine experts, delivers the knowledge and competencies required to address the worldwide problem of food security.
From Free, Non-credit Offerings to Online Master's Degree Programs
The learning materials developed for each program can be used flexibly to deliver a spectrum of educational products:
Massive Open Online Courses (MOOCs) that are freely accessible
Elective for-credit courses within Doctor of Veterinary Medicine degree programs, both at Illinois and at other accredited veterinary colleges; the courses can be delivered entirely online or as material for a "flipped classroom" where students view online materials outside class to prepare for in-class activities facilitated by local faculty
Brief (5- to 15-minutes) online lessons, coordinated into 1-hour courses, addressing core competencies needed by veterinarians; this format appeals to busy practitioners with limited time away from the clinic and with immediate "just in time" information needs
A professional master's degree that includes online discussion periods and a capstone project
Online learning platforms provide flexibility, efficiency, and scalability, enabling a common set of materials to be used with increasing sophistication with different levels of learners. For example, the learning objectives and activities surrounding a video that deals with respiratory disease might focus on "remembering and understanding" the information when used with veterinary students, while challenging learners in postgraduate training to "analyze and evaluate" the information.
The i–Learning Center is the preeminent source for ongoing world-class veterinary education delivered to a global audience using an online, cross-functional educational platform.
A service unit within the College of Veterinary Medicine, the i–Learning Center reports to the college dean. Faculty members, both within and outside the College of Veterinary Medicine, teach and provide subject matter expertise through the i-Learning Center while retaining appointments within their home department.