Consider Trainers to Teach Clients Basic Procedures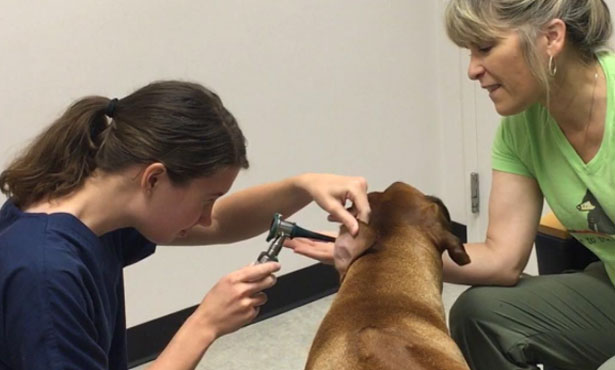 Veterinary professionals work hard to provide exceptional care for their human and animal clients. When medication is prescribed, added support may be needed to ensure that the required dosage is successfully administered by your client. Perhaps your client is nervous about applying eye ointment, or apprehensive about the very concept of having to reach into the puppy's ear with a solution. (In the photo above, Santino demonstrates a chin rest on my arm while a veterinary student examines his ear.)
Having access to certified professional trainers who advocate for positive care can make all the difference in the world. The fallout of referring to a trainer who uses aversive techniques to your client base can have detrimental effects.
The American Veterinary Society of Animal Behavior provides an excellent position statement that addresses how to choose a trainer.
I am fortunate that my daily collaborations include assisting Chicago-based veterinary professionals. They generously refer their clients to our training team to help teach basic animal care and husbandry skills. These skills include basic veterinary and grooming procedures. Our goal is to create positive associations (for the human and animal!) that increase successful day-to-day care.
A current collaboration includes teaching clients and their dog an allergy injection procedure. My fun role as the trainer is to teach the owners and their beautiful dog positive, low-stress techniques through successive approximations. This video showcases the allergy injection procedure. We were all thrilled that it was a success!
Make sure to refer a trainer that advocates canine communication education, positive reinforcement care and training, and fosters an open dialogue between your practice and client base.
Let's all work together to increase the client and animal care experience!
—Laura Monaco Torelli, CDBC, CPDT-KA, KPA Faculty, Animal Behavior Training Concepts